The great thing about down markets is that people get scared. When they are scared, they tend to sell anything, no matter what the story is. For patient buyers, others' fears can lead to wealth.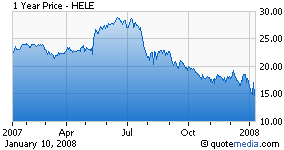 This seems to be the case with Helen of Troy (NASDAQ:HELE). The stock has recently tanked, even though earnings were strong. Why? HELE sells a lot of low-end retail products (OXO kitchen supplies, hair care products, beauty products, etc.), and everyone is afraid of a recession. This stock, despite years of great sales and earnings performance, is incredibly unloved. It currently trades at around 7 times earnings.
Is their business getting hurt by the slowing economy? Definitely. In the last quarter, their beauty segment suffered a 6% sales decline. But by cutting out low-margin SKUs, they are actually seeing their margins improve, their earnings grow, and their cash balance swell. And it's not all bad news. Their kitchen segment actually reported sales growth in the quarter. And they continue to invest in new lines of business.
I was very impressed how their SG&A costs came down so much. These guys know how to manage their business.
They are getting so much cash that they believe they will pay off ALL of their debt in the near term. They said on the conference call that they have $100 million in cash, more than the $87 million they had at the end of the quarter.
Valueline estimates they will have $30 a share in sales by around 2010 and $2.80 in profits! That would mean they are trading at 5.2x future earnings.
Here's how Jefferies & Co. analyst Douglas M. Lane calls it: "While we are cautious on the U.S. consumer overall, we think the shares provide a very compelling valuation at current levels and view the stock weakness as a good entry point." He thinks the stock should be priced at $21.
I tend to agree.
Disclosure: Author has a long position in HELE