LogiTech International (NASDAQ:LOGI) is a highly speculative opportunity but be cautious. Many of you know that the company made high end products to upgrade your PC with a better keyboard, mouse and webcam. But things have changed. What do you do when you have the best products and technology in the industry but the industry no longer has a need for your products? You must reinvent yourself.
Just a few years ago new buyers bought PCs and then went to the computer store and upgraded their periphery with LogiTech's products. Almost over night technology moved on and no one is buying PCs but instead buying tablets, Kindles, iPads and other handheld mobile devices that have all the features built in.
Game Plan - New management and new product lines. The jury is out but the stock is moving up recently based on this hourly trading chart provided by Barchart: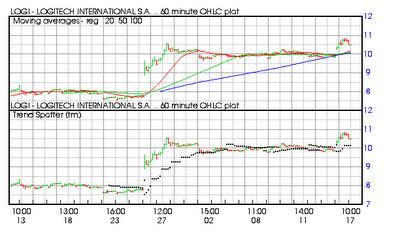 In the last 2 1/2 months the stock has out paced the market as measured by the Value Line Index. While the Index is down 3% for that period the stock is up almost 35%. Something is happening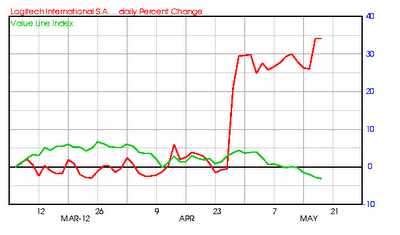 Logitech International S.A. designs, manufactures and markets hardware and software products that enable digital navigation, music and video entertainment, gaming, social networking, audio and video communication over the Internet, video security and home-entertainment control. The company operates in two segments, personal peripherals and video conferencing.
The peripherals segment provides peripherals products, such as mice, trackballs, keyboards, interactive gaming controllers, multimedia speakers, headsets, webcams and lapdesks for PCs; Internet communications products, including webcams, headsets, video communications services and digital video security systems for home and small businesses; digital music products consisting of speakers, earphones and custom in-ear monitors; Harmony line of advanced remote controls, and Squeezebox wireless music solutions for home entertainment systems; a range of Logitech products for the Google TV platform in the United States; and gaming controllers and microphones, and other accessories for gaming consoles.
The video conferencing segment offers LifeSize video conferencing products, infrastructure products and services for the enterprise, public sector and other business markets. Its LifeSize products comprise scalable high-definition ((NYSE:HD)) video communication endpoints, HD video conferencing systems with integrated monitors, video bridges and other infrastructure software and hardware to support large scale video deployments, as well as services to support these products. The company sells its products primarily to distributors, value-added resellers, and original equipment manufacturers. It operates in the Americas, Europe, the Middle East, Africa and Asia Pacific. The company was founded in 1981 and is based in Morges, Switzerland. ( Yahoo Finance profile)
Factors to consider:
Barchart technical indicators:
96% Barchart technical buy signal
Trend spotter buy signal
Above its 20, 50 and 100 day moving averages
Four new highs and up 28.17% in the last month
Relative Strength Index 69.59%
Barchart computes a technical support level at 9.91
Recently traded at 10.42 with a 50 day moving average of 8.54
Fundamental factors:
Not widely followed on Wall Street where only three firms have assigned analysts to write reports on this one.
These analysts predict revenue will only increase by 1.10% this year and another 4.30% next year.
Earnings are the story and are estimated to increase by 82.90% this year, an additional 30.70% next year and continue at an annual increase of 28.00% over the next five years.
These forecasts resulted in one strong buy, one hold and an under perform recommendation - Looks like a split to me.
In spite of it all this uncertainty the company has an A financial strength rating.
While Raymond James give a thumbs up, Goldman Sachs says thumbs down.
The P/E of 23.50 is much higher than the market's P/E of 15.30.
New management is an unknown.
New products in security systems, teleconferencing and hand held device periphery is new too.
General investor interest:
Surprisingly almost 1,000 readers on Motley Fool have the stock on their watch lists
Those giving an opinion voted 94% for the new company to beat the market
The more experienced All Stars voted 96% for the same result
Well, what does the market think? In the last 50 trading sessions Apple (NASDAQ:AAPL) was only up 2%, IBM (NYSE:IBM) only up 1%, and EMC (EMC) down 8% with all three trending downward. LogiTech on the other hand is up 34% and seems to be rising. You figure?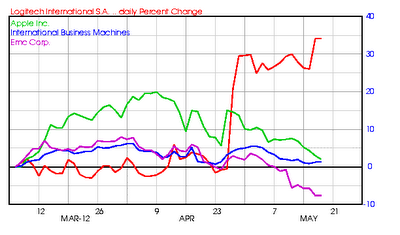 Summary: LogiTech International is a highly speculative stock, not an investment. New management, new products and a new game plan all still to be tested. If you buy as a speculative position watch the 100 day moving averages and lower support channel of the 14 day turtle channel: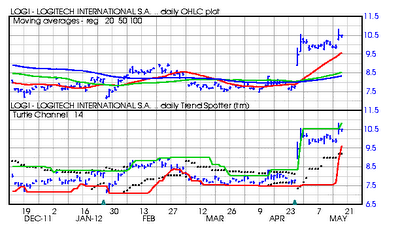 Disclosure: I am long AAPL.