The stock market is "teeming" with growth stories that slip under the radar of the media and major analysts. Although a dark, industrial sector may sound less than sexy, much money is waiting to be made. I found one such low-profile growth story in Team Industrial Services (NASDAQ:TISI), a company that services pipelines and tanks for oil refineries and other chemical producers.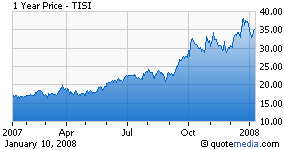 Team recruits a highly skilled workforce of technicians, specially trained in the inspection and repair of industrial containers and pipes. While this type of work sounds mundane, it is no ordinary plumbing job! These industrial vessels are often used to transport hazardous chemicals, requiring Team's technicians to apply special processes such as anti-corrosive heat treating and welding.
Silent Growth Story
On the first quarter conference call for the 2008 fiscal year, Team posted $103.5 million revenue with an astounding 42% organic growth. Net income also increased over 130% to $3.5 million. CEO Phil Hawk attributed to the quarter's unusually high growth to strong demand, driven by expansion and maintenance bottlenecks at oil refineries. The company has also been lifted by strength in its Canada operations.
Surprised by the company's high growth numbers, I checked at the company's financials for the last several years and discovered a trend of improving ratios. Below are some interesting figures I compiled based on data in the 10-K's:
2007
2006
2005
Operating Margin
9.5%
8.2%
4.9%
Return on Equity
18%
16.5%
9.8%
Debt / Equity Ratio
0.61
0.72
1.3
Interest Coverage Ratio
7.2
5.35
4.1
Revenue (mil)
318.3
260
193
Revenue Growth
22.4%
34.7%
Net Income (mil)
15.5
10.6
4.8
EPS Growth
46.2%
120.8%
Perhaps it is no coincidence that the stock has begun an extraordinary run since 1999, shortly after the induction of Phil Hawk as CEO. Over that period, the stock price has drastically outperformed the major market indices with an 1800% gain.
The Catalyst May Continue
Team Inc. seems to have a knack for building economies of scale through consolidation in a highly fragmented industry. According to Investor's Business Daily, one of the most successful deals has been the acquisition of Cooperheat-MQS in 2004.
Cooperheat was a distressed company in bankruptcy, and Team Inc. purchased it at a discount to form its TCM unit. Through this addition, Team leveraged Cooperheat's specialty in metallurgical heat treating and so far has done an extraordinary job turning the business around. Cooperheat became profitable almost immediately after its integration with Team.
Team Inc. continues to make strategic acquisitions. In June 2007, they made another acquisition similar to the Cooperheat deal. For $33.8 million, the company purchased a Canadian company named Aitec. The Aitec acquisition makes Team Inc. the second biggest inspection service provider in Canada.
With over half of Team Inc.'s business in the petrochemical and refining industry, I see little reason for its prior trends to slow down. The United States has not built an oil refinery since 1976; the aging infrastructure could increase the need for inspection and repair services. Any expansion of existing plants would also be to Team Inc.'s benefit, such as the $3.8 billion proposal for BP's Whiting, IN refinery.
Too Good to Be True?
But just like any stock with possibilities, Team also carries a significant downside risk. At the current price near 35, much of the good news already seems factored into the stock. The Forward PE ratio in the upper 20s is near its all-time high.
Team Inc. may face stiffer competition down the line. It currently commands about a 15% market share in an industry fragmented by players. Its largest North American competitor Furmanite (formerly known as Xanser) is also a high growth business and may offer a compelling alternative to Team Inc.'s value proposition.
Market capitalization in the $600M range also provides less liquidity. This will make it a difficult holding for institutional investors. The good news is that this seems to cause large short-term fluctuations in stock price, perfect for a retail investor to trade volatility.
Team Continues to Outperform
This week Team Inc. announced is most recent quarter's operating results. Revenue organically increased 28% to $112.3 million for the quarter. The company also announced a new acquisition of Leak Repair Specam to expand its European operations and full-year guidance was raised by 0.05 to $1.10-$1.20.
I think this is a still-undiscovered long-term play will continue to outperform as oil reaches new highs and the refining industry remains in demand. Investors seem to recognize this, as the stock has held up through a turbulent market in recent weeks. Any weakness in TISI is a terrific buying opportunity.
Full Disclosure: At the time of this writing, Winston does not hold a position in Team Inc., but is subject to change positions based on market opportunities.