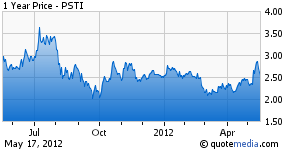 Recently, Pluristem Therapeutics' (NASDAQ:PSTI) revealed preclinical data showing that its platform technology, PLX cells, is effective in a type of heart disease that has no current cures.
The condition is known as diabetic diastolic dysfunction, a subset of diastolic heart disease that occurs when one or both ventricles of the heart suffer in performance, leading to heart failure. This is a common condition of both Type 1 and Type 2 diabetes.
Roughly 4.8 million Americans are currently afflicted with heart failure, with new 400,000 cases annually, according to the National Heart, Lung, and Blood Institute. It has been reported by the American College of Cardiology that half of these patients develop the condition due to diabetes.
PSTI used an animal model as a preclinical trial performed at the Berlin-Bradenburg Center for Regenerative Therapies in Germany, under the auspices of Dr. Carsten Tschope, an influential member of the European Society of Cardiology. Dr. Tschope is known in Europe for his work in diastolic dysfunction with two published scientific journal articles in 2011 where he explored strategies to more accurately diagnose this cardiac condition through Doppler echocardiography.
In the PSTI study, thirty-six genetically treated mice were induced with diabetes, leading to diastolic heart failure. One week later, PLX cells were given to two-thirds of the animals, with the remainder acting as a placebo group. Three weeks into the study, the treated mice showed significantly improved cardiac function measured by how strong the heart was pumping blood and a reduction in the stiffness of the left ventricle that points to the repair of heart muscle damage.
Dr. Tschope went on record to say that results were so promising that he recommends further testing. While his work had to date been only the diagnosis of the condition, this was the first time Dr. Tschope was involved in an avenue of treatment.
A meaningful aspect of this study is that the administration of PLX cells had a strong anti-inflammatory effect. PSTI has already shown that a portion of peripheral arterial disease (PAD), for which the company has been granted FDA clearance to begin Phase II, is due to inflammation of the arterial wall, known as arteritis. Although not proven, inflammation has long been suspected to play a vital role in heart disease and stroke patients as it is a clear response of the body to the presence of arterial plaque or fatty deposits.
We are excited about these results because it could give PSTI a brand new clinical indication, all based on its existing technology platform. This kind of leverage should be ultimately valuable to investors of the company.
Further, this news comes at a good time - In Paris, France, the EuroPCR, a highly-attended cardiology conference, began on May 15th . Companies such as Medtronic, Inc. (NYSE:MDT) and St. Jude Medical, Inc. (NYSE:SJT) have already presented for the first time innovative products for treating ailing hearts.
We view PSTI as a company whose platform technology can be effectively applied to patients where options are severely limited. In addition to the large markets described above, PSTI's PLX cells may potentially treat eight million Americans alone suffering with PAD. The company's other clinical indications being investigated target large US markets as well: neuropathic chronic pain ($4 billion); ischemic stroke ($5.5 billion); and skeletalmuscular injury ($46 million).
For the PAD market alone, a look at similar publicly-traded companies Cardiovascular Systems, Inc. (NASDAQ:CSII) and The Spectranectics Corp. (NASDAQ:SPNC) are trading at market caps of $166 million and $370 million, respectively, compared to PSTI's $120 million, a wide disparity considering quicker efficacy of PSTI's PLX cells for PAD.
Further, PSTI, with $39 million in liquid assets, a greater percentage of cash than these companies, and has been more successful in containing costs and is clearly a tremendous opportunity to get in on the ground floor of an up-and-coming cell therapy company. PSTI has been rising rapidly on the clinical front and should continue to do so.
Disclosure: I have no positions in any stocks mentioned, and no plans to initiate any positions within the next 72 hours.