Verizon (NYSE:VZ) just threw a curveball at Apple (NASDAQ:AAPL).
The company announced that it would not allow grandfathered unlimited data plans to carry on when customers upgrade into LTE devices. This makes it a whole lot less appealing to make such an upgrade, and can be a factor limiting iPhone 5 take-up by present iPhone 4S customers with unlimited data plans.
I say this because the iPhone 5 should be an LTE phone, and Verizon represented 4.3 million iPhones sold in the latest quarter, so it's still a significant factor. Indeed, I wonder how much of yesterday's Apple weakness was already because of this development. The story was out at 1:44pm on "The Verge", and that broadly coincides with Apple stock seeing increased volume and taking a hit. We had the FOMC minutes at 2:00pm but that's clearly later than the movement, as pictured below (source: Yahoo Finance).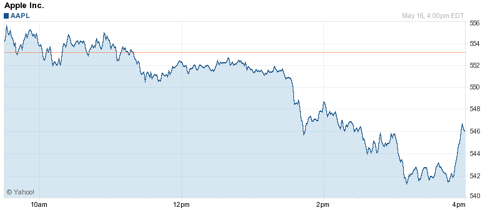 So for now this movement already seems to have discounted this development, but still it might turn out to be a factor delaying iPhone 5 upgrades. Thankfully by then China will probably compensate, if an agreement is reached with China Mobile (NYSE:CHL) to distribute the iPhone 5 there as well.
Relevance
As always, anything negative for the iPhone is hugely important for Apple. The iPhone represented 57.9% of Apple's revenues in its latest quarter, and surely more than 3/4ths of its gross margin. Even though Apple has several successful products, it's still mostly about the iPhone. As the iPhone goes, so does Apple.
Conclusion
Lately Apple has been hit with a spate of bad news right into a very weak stock market. Still, there are several catalysts that might turn the stock around, and the stock is still significantly cheap on a multiple of earnings basis. Indeed, just yesterday David Einhorn again sung its praises and probably accounted for the slight pop into the close.
Disclosure: I have no positions in any stocks mentioned, and no plans to initiate any positions within the next 72 hours.