Since silver reached our target of $50 last year it has been in a treacherous downhill descent. The depth of the decline in precious metals is approaching 2008 levels, and many mining stocks are at 2009 price levels. While it has been painful for bullion investors, it's been even more disastrous for silver miners and their investors. Now we must revisit our analysis to determine if silver and miners are near their trading floor.
We've seen a lot of bearish reports on silver including a comparison to the Nasdaq bubble crash, which overlays a projection of silver to continue falling to the $6-$8 range. Is it possible for silver to reach or hold at those levels?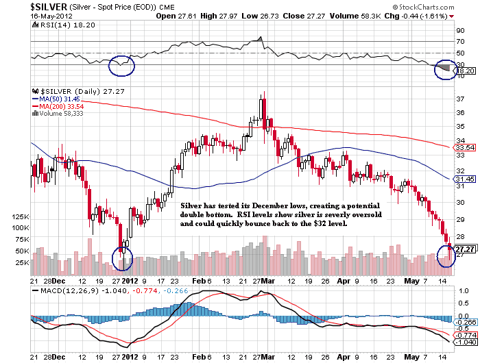 Using earnings data for PAAS, SSRI, EXK, and AG from the first quarter of 2012, we divided earnings by actual silver produced, giving credit for gold and other base metals, in order to determine the actual break even cost of production. Gold sales averaged $1700 and silver averaged $33 for the first quarter. Despite this SSRI wasn't profitable. EXK had the lowest breakeven point of $14.68 per ounce of silver, followed by AG at $18.33 and PAAS at $23.87. The average breakeven production cost was exactly $24 per ounce.
Even excluding SSRI, the average was $21.50. Over the past 11 years, silver has risen by nearly 10 fold; however production costs have almost risen just as much. Silver's price is approaching its long term cost of production level, and given the depletion of silver stockpiles of the last 3 decades, we don't anticipate silver's price holding below that level for long - if at all. If you're somehow able to buy silver for less than $21.50 to $24 an ounce we'd argue that miners are literally paying you to buy it. Given that over the long run miners need a healthy profit margin as an incentive and buffer against their depleting resources, we'd argue that $26 to $30 is the long term nominal floor for silver.
Interestingly, when we began accumulating silver positions at the onset of the bull market in 2001; our target price was $30. A lot has changed in the last decade. At that time silver was in the $3 range and its production costs were in the $3 to $5 range. We anticipate that this nominal $30 range will be the floor not only for this bull market, but also for the aftermath of the expected silver bubble in coming years. Just as $3 was the floor after the hunt brother debacle, $30 will be the floor of silver's next secular bear market.
We're unable to generate a realistic scenario where the cost of production significantly declines from current levels. Wage costs aren't expected to recede, and materials and energy costs will remain near these levels as their own production costs have increased. Furthermore, we're confident that governments won't stop regulating, and taxing mine output. As such, we believe that unleveraged, allocated silver below $30 has very little risk, and its upside potential remains.
Another significant change since the bull market began is the health and profitability of silver miners. When the bull market began silver miners were breaking even at best, and for many years these companies had to resort to dilution in order to raise capital for development and ongoing operations.
Now, the leading primary silver producers have significant cash reserves, mature developed properties generating sizeable earnings, and many are giving back to their shareholders via dividends and buybacks. Over the last year the prices of miners have declined, however their earnings and financial stability has increased substantially - which has led to a shocking compression in PE ratios.
Typically, silver miners have traded at premiums in relation to base metal producers however they are now at a discount. The expected forward PE ratio for 2013 from analysts is 7.2 for PAAS, 12.1 for SSRI, 6 for AG and 6.9 for EXK, giving an average PE ratio of 8. This has setup a scenario where these companies could increase by multiples if silver tops its high of $50 and PE ratios expands to match the S&P.
Given the limited downside potential, and our inflationary expectations that we don't believe our priced into the market, we believe that silver and silver miners are very close to an important floor with substantial upside.