With a close today in the negative territory by all three major U.S. indices, many are beginning to feel fear in the markets. The Dow Jones Industrial Average, now down 11 out of the last 12 trading sessions, closed at 12,442, off approximately 840 points from the yearly high achieved May 1. The Nasdaq has been pounded back under the 3,000 mark, settling at 2813, and the S&P 500 waved goodbye to 1400 as it plummeted toward 1300, while hanging on by a thread at 1304. You can see and hear the fear in traders and investors alike, the overwhelming amount of puts purchased trying to protect what little is left by some, and the fear in the television pundits' voices as they talk day in and day out looking for that bounce.
With blood flowing through the cracks of Wall Street it would be wise to only do one thing: Buy! Maybe I'll get crucified in the comments section, maybe many share my mindset, but with the markets puking themselves up in the final hour of trading today, you truly could see that people are getting scared. Some say perhaps investors are raising funds for Facebook (NASDAQ:FB), as the IPO is tomorrow. Maybe fund managers are taking profits ahead of their summer vacations, others are saying. Or perhaps it's just the general crowds lightening their positions and taking their gains amid another famous EU crisis.
Click to enlarge all images.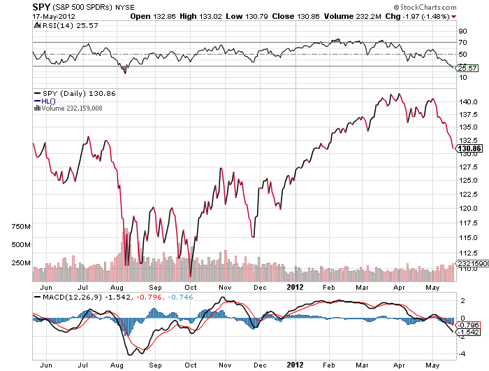 Above: One-year chart of the SPY. Source: Stockchart.com.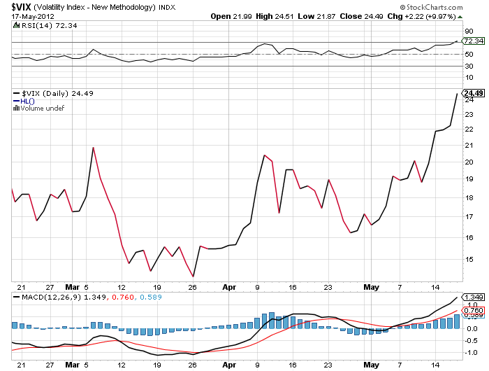 Above: Three-month chart of the VIX. Source: Courtesy of Stockcharts.com.
As you can see in the chart above, the old saying "sell in May and go away" is holding quite true. The Dow topped on May 1, and the S&P 500 wasn't too far from peaking either. The VIX was also very low, around 16 or so. What has ensued has been wave after wave of selling, many calling for a bounce that has not come. Unfortunately, in places like Twitter and Seeking Alpha's own Stocktalks, you heard people loading up at 1350 and 1330, "knowing" the bounce was coming. Well, here we are, one fat-finger order away from cracking 1300 and bulls are getting scared while the bears roam freely and viciously.
Who are you, as an investor? That's what you should ask yourself before considering stepping in right here and buying. Or holding off for more possible losses. If you have been fortunate enough to be on the sidelines this whole time, or better yet have been short, perhaps the 1300 level in the S&P 500 is where you think about dipping your toes in the water. Even with the steep declines we've seen so far, the market is still up for the year. The S&P came into 2012 at 1277 and the Dow welcomed the year at 12,397. Buying the SPDR S&P 500 Index ETF (NYSEARCA:SPY) or the SPDR Dow Jones Industrial Average Index ETF (NYSEARCA:DIA) is just one way to play this move. Both are just a few points from where they started 2012, which coincidentally is near the 200-day simple moving average and which should provide substantial support.
The sell-off we've had is warranted, in all honesty. With Greece fleeing the eurozone every other day and economic numbers not shining like the sun, it's a slow-motion catastrophe. Last fall, we saw the brunt of how bad volatility can make market participants feel. But whether or not we see a fall 2011 duplicate again doesn't mean this selling isn't overdone. With an RSI of only 25, the SPY is deeply oversold. The RSI is a measurement of oversold and overbought conditions, and a corrective bounce is in store at the very least.
Maybe all this panic is really just a correction, a correction that the markets have to have in order to continue running in a healthy bull market. In my opinion, trader or investor, a shaving of 100 handles on the S&P is as good a buying opportunity as any. It may end up being just a short-term bounce or, on the other hand, a buying-near-the-bottom opportunity on a long-term horizon. Only time will tell, but creating starter positions here, or adding to some of your long-term positions, would be a safe idea for the time being.
Disclosure: I have no positions in any stocks mentioned, but may initiate a long position in SPY, DIA, MCD, QQQ, AAPL over the next 72 hours.