PowerShares Dynamic Energy Exploration and Production ETF (PXE) ranked fourth on the PowerShares Momentum Tracker sector momentum table last week for the seventh week in a row. Lined up behind the fund, in positions five through seven, stood PowerShares' three other conventional energy funds. With oil prices hovering near $100 a barrel for months and finally reaching that symbolic touchstone on January 3, it's no wonder that energy stocks have delivered solid returns even as the broad market churned with volatility. Exploration and production firms, which are especially sensitive to the ups and downs of oil prices, fared especially well recently: PXE gained 5.60% during the three months ending January 4—more than 14 points ahead of the S&P 500 and better than 78% of the funds in Morningstar's natural resources category.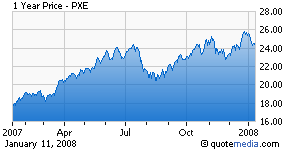 PXE invests in stocks of firms that specialize in seeking out the world's remaining untapped oil and gas reserves or in extracting those commodities from the earth. The firms represented in PXE's portfolio vary greatly in size, geographical focus and the breadth of their operations. For example, recent number ten holding Denbury Resources (DNR) extracts about 36,000 barrels of oil and gas daily from its properties in the Gulf of Mexico and southern U.S. states and has a market capitalization of about $7 billion, while number seven holding ExxonMobil (XOM) has operations in at least 200 countries and a market cap of more than $503 billion.
The factors that drive oil prices are complex and numerous. That said, a few simple reasons help explain oil prices' current elevated levels. Explosive economic growth in China, India and other emerging economies is sending demand to unprecedented levels. Meanwhile, producing oil supplies has become increasingly complicated. The majority of the high-quality, easy-to-produce oil has already been consumed, forcing exploration and production firms to devise ever more creative—and expensive—means of delivering oil to markets.
Denbury Resources, for example, has developed a highly promising technique to extract the last drops of oil from old wells. The company injects carbon dioxide into the wells, and pressure from the gas squeezes out any remaining oil. Other firms, including recent PXE number three holding Occidental Petroleum (OXY), are increasing their production in Canada's Alberta tar sands, which has helped make our northern neighbor the number one supplier of oil to the U.S. It's extremely expensive to produce petroleum from the minerals found in the tar sands, however, and it recently became more costly: The provincial government announced it will be demanding significantly higher royalties from the profits earned in this territory, which is central to the strategies of many oil companies.
Producing petroleum from the tar sands may not be easy, but at least Alberta is free of the totalitarian dictators, terrorist insurgencies and militant anti-U.S. sentiment found in such oil-rich countries as Nigeria, Iran, Iraq, Russia and Venezuela. Those geopolitical issues represent a constant threat to disrupt world oil supplies, and as a result they wield an enormous influence on oil prices. Take, for example, the December 27 assassination of former Pakistani Prime Minister Benazir Bhutto, which spurred oil speculators to push the commodity up about a dollar a barrel.
Despite their challenges, exploration and production companies are likely to continue earning healthy profits as long as oil prices remain high. High prices allow the firms to generate handsome profit margins despite their high cost of operations. No one knows how much oil will cost in the future (though market commentators in recent months have tossed out forecasts ranging between $50 and $150 a barrel). Still, analysts like those at Morningstar project average prices between $50 and $70 per barrel in the coming years—a major pullback from current prices but still high by historical standards.
The future of oil prices, and of PXE's returns, will be determined in part by the resiliency of demand. Many economists predict that high energy costs in the short term could push our troubled economy into a full-blown recession. If they're right and U.S. economic growth slows considerably, demand for oil is likely to take a sharp dive. And if a potential U.S. recession spreads to foreign markets, things could be even worse for the energy sector. Furthermore, signs of weakness in demand could lead speculators to bail out of their positions, potentially causing the bottom to drop out of oil prices (at least until the next signs of higher demand or tighter supplies).
Alternative energy sources eventually are likely to supplant oil and gas—hence the strong performance of PowerShares WilderHill Clean Energy (PBW), which ranked first on the PowerShares Momentum Tracker sector momentum table last week. Such a development would likely lead to an irreversible decline in oil prices. That day is a long way off, however, and oil will remain an intensely valuable commodity for years to come. That said, oil prices and PXE's returns are likely to remain volatile—so you may want to keep any position here modest.