General Electric (NYSE:GE) is among the highest yielding dividend paying stocks in the Dow 30, and is listed in our High Dividend Stocks By Sector Tables.
GE went to the dark side during the financial crisis, slashing its dividend from $.31/quarter to $.10/quarter in 2009. This was due mainly to liquidity issues about its ailing GE Capital division, which suspended its dividends to parent GE in 2009, to preserve cash. However, GE has steadily clawed its way back, increasing its quarterly dividend twice in 2010, and twice in 2011, to its present $.17/quarter dividend rate.
Although its payout isn't back to pre-recession levels yet, GE shareholders just got a big break this week: GE Capital just received approval from the Feds to pay a quarterly dividend of $475 million to GE in the second quarter of 2012. In addition, GE Capital's board announced that it plans to pay a $4.5 billion special dividend to GE in 2012, subject to GE Capital Board approval, and that its 2012 dividends to GE will equal 30% of GE Capital 2012 earnings.
GE didn't say how much of these new dividends would be paid to shareholders, but its Q1 earnings release stated that, "We expect to return excess cash from GE Capital over the course of 2012, subject to review by the Federal Reserve. Capital allocation will be balanced and investor friendly."
GE's press release about these new dividends also stated, "GE plans to accelerate its common stock buyback starting in the second quarter, depending on market conditions", and that "GE as a whole aims to pay about 45 percent of its profit back to shareholders as a dividend."
Given these shareholder-friendly statements, it might be that GE will split these new GE Capital dividends between share buybacks and increased dividends to GE shareholders. Here's how it would look with a 50/50 allocation, based on the current amount of 10.6 billion shares outstanding: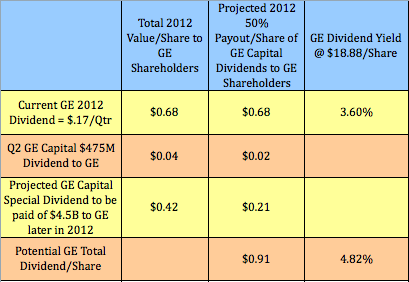 A 50/50 buyback/dividend allocation would equal a huge 34% dividend increase for GE shareholders. But even if GE doesn't pay 50% of this money out as dividends, shareholders will still benefit from whatever money is allocated to share buybacks.
Ever wonder how GE makes its money? With so many segments, it's difficult to compare them to peers - there really isn't another company in all of the same industries, although Siemens (SI) operates in a few of them.
Here's a breakdown of GE's 1st quarter 2012 revenue and earnings by segment. GE had revenue growth in all of its Industrial divisions, and 2 of its biggest divisions, Energy Infrastructure and Healthcare, also had 10% profit growth: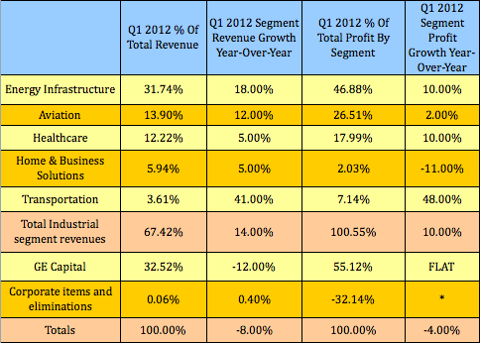 GE Capital's first quarter profits looked flat at first blush, but digging deeper reveals a one-time gain in Q1 2011, from the sale of Garanti Bank. Remove that, and things look a lot better: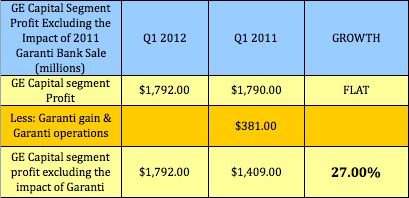 GE's total Q1 2012 profit growth was -4%, but Q1 2011 also included some one-time gains from the NBC-Universal deal with Comcast (NASDAQ:CMCSA). Without those, total Q1 2012 profits were up 4%: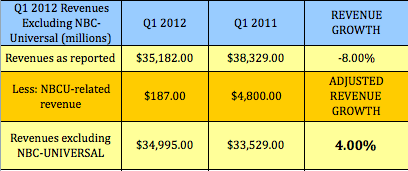 Covered Calls: In addition to owning shares of GE, we also sell covered call options to improve its dividend yield. The JAN. 2013 $20.00 call option pays approx. twice GE's current dividend amount over the next 8 months. (We only listed the current $.17 quarterly dividend in all of the trades below.)
Selling covered call options offers you 2 definite income streams and an additional potential price gain:
1. Call option income - Paid to you within 3 days of the trade or sooner
2. Dividend income
3. Potential Assigned Yield - If GE's share price is above $20.00 at or near expiration, your shares will be sold/assigned for a Price Gain of $1.12/share, ($20.00 Strike Price, minus $18.88 share cost).
(GE is listed along with over 30 high yield options trades in our Covered Calls Table.)

Cash Secured Puts: We've also sold cash secured put options for GE in the past, in order to accumulate shares at a lower break-even price, and to create income. We've listed 2 Put sales below, to illustrate how you can tailor this strategy to your assessment for a stock's future price.
1. The first trade is more conservative - it has an "out of the money" (below GE's current share price) Jan. 2013 $17.50 put option, with a break-even of $16.05, which is 15% below GE's $18.88 share price.
2. The second trade is more aggressive - it has a JAN. 2013 GE $19.00 put that's "in the money" (above GE's current share price). The $19.00 put pays more, but it has a higher break-even, of $16.90. Note how both of these put options pay much more than the current dividends over this 8-month trade. Even with GE's dividend potentially increasing, the put options will still pay more. Since put sellers don't receive dividends, your total potential profit is the Put Bid Premium that you're able to sell for.
(You can find more details for this and over 30 other high yield Cash Secured Puts trades in our Cash Secured Puts Table.)

Disclosure: Author owned GE shares and was short GE call options at the time of this writing.
Disclaimer: This article is written for informational purposes only and isn't intended as investment advice.