It has been a while since I have done security analysis on a stock with a market cap of this size. Currently, Mr. Market is valuing Vineyard National Bancorp (VNBC) at less than $100 million. The million dollar question is whether Vineyard warrants this type of valuation. As Buffett has said, "Price is what you pay, Value is what you get."
The Business
Surprisingly, Vineyard is located in my backyard. This is the business summary from Yahoo Finance:
Vineyard National Bancorp operates as a holding company for Vineyard Bank, National Association, which provides community banking services. It accepts non-interest bearing demand deposits, certificates of deposit, time deposits, savings deposits, negotiable order of withdrawal, and money market deposit accounts. The bank also offers single-family residential luxury and tract construction loans, SBA 7(a) and 504 loans, commercial and residential real estate loans, and loans to non-profit organizations. In addition, it provides cash management services that comprise electronic deposit services; online banking services, including automated wire processing, electronic tax payments, electronic transfers, loan payments, bill payments, and account reconciliation; lockbox services; and Positive Pay service that allows business customers to review checks presented against accounts prior to disbursing funds. The bank serves commercial businesses, single-family residential developers and builders, individuals, commercial real estate developers and investors, non-profit organizations, and other local private and public organizations. As of December 31, 2006, it operated sixteen full-service banking centers located in Chino, Corona, Covina, Crestline, Diamond Bar, Irvine, Irwindale, Lake Arrowhead, La Verne, Manhattan Beach, Rancho Cucamonga, San Diego, San Dimas, San Rafael, Upland, and Walnut communities in Los Angeles, Marin, Orange, Riverside, San Bernardino, and San Diego counties; and five loan production offices in Anaheim, Carlsbad, Palo Alto, Monterey, and Westlake Village located in Orange, San Diego, Santa Clara, Monterey, and Ventura counties in California. The bank was founded in 1981 and is headquartered in Corona, California.
Risks
The first question that I asked myself about Vineyard was how much sub-prime exposure the company has. The answer? None. On November 9, 2007, CEO Norman Morales provided an update for Vineyard's subprime exposure and overall asset quality:
Vineyard's lines of businesses have never included lending relationships with the kind of sub-prime borrowers which have caused significant borrower default and loss exposure to many of our competitors
For the complete press release see here.
Secondly, Vineyard does expect to take a 3-6 million hit from residential construction loans.
Quality of the Bank
Vineyard currently sports a 15% ROE for the trailing twelve months (ttm). This is inline with the industry average. Historically, for the past 7 years Vineyard has had ROE between 11% and 39%.The 15% is right in line with its historical range.Vineyard's growth has been unprecedented. In the past it has grown organically but has made several acquisitions. On December 31, 2000, the company had 100 million in assets; on September 30, 2007, the company had grown its asset base to 2.5 billion. By no means is the bank slowing down..
Dividend
Currently, Vineyard has a 32 cent annual dividend (.08 quarterly). Vineyard also has a history of raising its dividend. Currently, the stock yields a respectable 3.20% dividend. In August 2003, it boasted a .03 cent annual dividend which is substantially less than its current .32 dividend (along the way the stock split 3 times).
Click here for dividend chart.
Valuation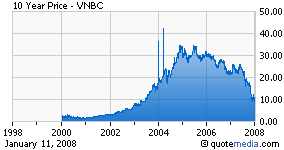 Currently, the stock trades at a mere 4.5 times earnings (ttm). The P/E of 4.5 is at the lower end of its 10 year range. The stock has traded with a P/E as high as 28 (1999) and as low as 5 (2006). But, looking at a 10 year chart, clearly 28 and 5 are on the extreme ends. A P/E of 12 seems to be "just right". Clearly, the stock is at a discount. In addition, Vineyard is trading at a discount to book value. Book value is currently at $13/share.
TTM Revenues: $186 M
Net Operating Margin: 15%
Net Earnings: $27.9 Mi ($1.80/share)
WACC: 8%
Estimated Value: $22.50/share
WACC = 10% ; $18
WACC= 12% ;$15
Even if we use a WACC of 12%, today's current price still has a margin of safety built in. The valuation above also does not factor in any growth.
Conclusion
Clearly Vineyard Bancorp exhibits all the characteristics of a contrarian play. The price to earnings ratio is low and the company exhibits strong fundamentals. I believe earnings will grow in the future. As Ben Graham once said:
In the short run, the market is like a voting machine–tallying up which firms are popular and unpopular. But in the long run, the market is like a weighing machine–assessing the substance of a company
Disclosure: I have no position in VNBC