There is a debate of sorts floating around, that started when Morningstar (NASDAQ:MORN) put out an article called The Worst New ETFs of 2007.
There have been follow ups from ETF Trends, IBD and IndexUniverse. That last one includes what could sophisticatedly be thought of as a pissing match between the Morningstar author and yours truly, that is kind of funny.
The Morningstar foray into ETFs can be summed up with the following:
One of the worst funds for 2007 was the SPDR China (NYSEARCA:GXC). The article says "These markets (he means China) have been smoking in recent years. Not surprisingly, they look rich to our eyes." OK, well in past dumpings on these guys, I have talked about their applying bottom up as belying a thorough lack of understanding of how to study and use ETFs.
So China looks rich? Was it rich when Morningstar gave iShares China (NYSEARCA:FXI) the thumbs down on January 4, 2005 when they said the "Chinese market is coming off a hot streak and that's often the wrong time to invest in an emerging market." Their next report on FXI was on 11/22/05. Between those two reports, FXI was up 14% versus 6% on SPX. In the 11/22 report they gave it another thumbs down. The title (you can click through to see it) says it all and they suggest buying PowerShares China (NASDAQ:PGJ) or Fidelity China [FHKCX] if you have to own China individually, which they didn't think was a great idea.
From that report to the next report on 12/28/06, FXI went up more than 80%, PGJ was up 55%, FHKCX was up 30%, while SPY was up about 12%. On that 12/28 report, the thumb down was that "China aficionados should note that impressive economic growth and clout don't always translate into superior fund performance." The report then cites some three, five and ten year data for Asian funds, which strikes me as wildly irrelevant for the China theme. From 12/28 to the next report on March 30, 2007 (which also reads as being very negative), FXI finally lagged the S&P 500, dropping 9% in that three month period. However FXI was up about 50% in calendar year 2007, even after a brutal ride down from the peak in October.
(Administrative note: the M-star article links don't work. You can click here for the FXI archive.)
Despite the sheer madness of buying a country fund, none of these reports contain, you know, information about the actual country of China. In deciding yeah or nay on a country, I think you might want to take a peek at some data on the economy, growth and whatever else you think is relevant too - for example, the economic fortunes of China - before you focus on the expense ratio or the number holdings of some fund.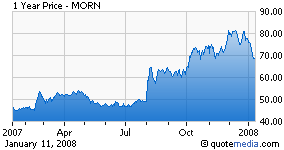 Bottom up has never made a lick of sense to me for ETFs. The above example with China was the first one I looked at, and I doubt it is the only one where they swung and missed repeatedly. I do not know if Morningstar has a motive for drawing the same conclusion so often on volatile funds, or if their understanding is really this bad. One thing is clear: That with their resources, they should, and could, dominate ETF coverage and commentary. I don't know if the crew they have needs to be taught how to look at these things, replaced altogether, or whether they should stop trying and just buy IndexUniverse.
If you read the links above from the other sites weighing in on the original article, you will see that the general opinion of Morningstar is very low. They don't get it. There is no telling them they don't get it. Any encounter I have ever had with anyone there (two or three times only), there has been no introspection as to the possibility that they might be missing something. I will repeat, this is a space where they should absolutely be cleaning house, but instead they are frittering away the opportunity.