As part of my "what if a recession" series, I explained that gold and gold mining stocks would have a place in my portfolio in 2008.
When picking a gold mining stock, investors are faced with many choices, as there are hundreds of companies to choose from. When searching for a good gold mining stock I look for a few key factors: reserves, cash cost/ounce, debt, hedge liabilities, production rates, and future development plans. Although this list is by no means exhaustive, it can be quite valuable when consistently used to help choose a winning gold mining stock.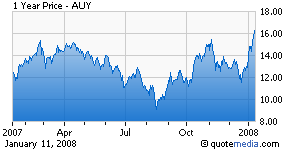 It was these factors that I used when I made the decision to add Yamana Gold Inc. (NYSE:AUY) to my portfolio. Yamana Gold is a Canadian gold miner, with seven gold and copper-gold mines in Brazil, Chile, and the United States. In addition to current gold production, Yamana has an ambitious growth pipeline that will culminate in 2.2 million ounces of gold production by 2012.
When it comes to cash cost/ounce Yamana is by far one of the best in the business. By best I mean low; Yamana's cash cost/ounce is an impressive, negative $339/ounce. You may be asking yourself, how can their cash cost/ounce be negative? Yamana's cash cost/ ounce is negative due to by-product credits. Essentially the copper and other minerals found in the rock, more than pay for the production of gold.
Prior to October, Yamana was carrying no debt; this has recently changed with the acquisition of Meridian Gold Inc. The company drew down $281.1 million from their credit facility to fund the Meridian purchase. This is not necessarily a bad thing, as Meridian will bring much value and production to the company. According to Yamana's Q3 financials, they have an attractive current ratio of 1.94. That is their current assets are almost double their current liabilities. This is a good thing for investors, as many mining company's liabilities outweigh their assets.
One liability that many gold mining companies are currently carrying on their books is gold hedges. Hedging is technique used by gold miners to guarantee sales of future production. Unfortunately, many gold mining company's hedge contracts are locked in at prices significantly lower than the current gold price. Yamana currently has no hedge liabilities on their books.
As far as gold mining companies go, Yamana is by no means the biggest, but they are one of the larger intermediate gold producers on the world stage. Year to date production in November 2007 was 367,816 ounces. Production forecasts for 2008 are 1.2 million ounces, 2009 1.5 million ounces, and 2.2 million ounces by 2012. Yamana has a respectable resource, with proven and probable gold resources of 6.8 million ounces. These numbers will change with the purchase of Meridian Gold.
The Meridian Gold acquisition is an excellent example of Yamana's ambitious growth plans. The purchase of Meridian adds another 2.3 million ounces of gold to Yamana's proven and probable reserves. In addition to gold, the meridian deal adds 83.7 million ounces of silver, and 31.3 million tonnes of Zinc to Yamana's already sizable reserves.
As with any investment, there are possible risks to consider. A possible downside for Yamana could be political risk. Investors have seen many great investments get hit by regional politics, governments change and so do their thoughts and policies regarding foreigners doing business in their countries. Costs can change and a drop in the price of copper would negatively affect Yamana's cash cost / ounce.
After careful consideration I chose to make Yamana Gold Inc. a part of my portfolio. This is not a solicitation to buy, but rather one investor's opinion. I am not alone in that opinion; analysts at Raymond James, and Davenport and Company, have both rated Yamana as a strong buy. Analysts at CIBC World Markets have recently upgraded Yamana to a sector outperform. Yamana is starting to gain the attention of investors looking to add a quality gold mining stock to their portfolio in 2008.
Disclosure: Author is long Yamana Gold