Quite a wild week for the last independent subprime lender! NovaStar Financial (NFI) terminated its top two executives, received another month's extension on its waiver with Wachovia (NASDAQ:WB), laid off 170 of its remaining 200 employees, and lost its NYSE listing.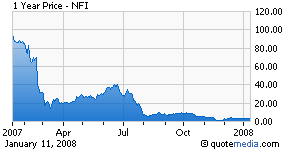 As expected, NovaStar has completed its transition to a portfolio manager. It is no longer originating or servicing any loans, and is entirely dependent upon the ratings agencies and the performance of its previous securitizations to continue to be able to pay off the Wachovia debt.
Wachovia has become increasingly aggressive with NovaStar, demanding the termination of a residual facility and requiring NovaStar to pledge those loans towards the non-investment grade facility...and requiring them to pay a $4.5 million termination fee for the privilege.
Clearly, NovaStar is in the process of orderly liquidating its assets. It remains to be seen if the TruPs holders will allow the orderly process to continue or whether they will force NovaStar's hand. In any case, as the last independent subprime lender standing, NovaStar's story has been a lesson for all.
Disclosure: none