When I found out that KC Masterpiece Barbecue Sauce and Hidden Valley Ranch salad dressings were made by Clorox (NYSE:CLX), I was actually kind of surprised.
And taken aback a bit. Let's just say knowing that the food I eat comes from the same company that makes bleach, cat litter, and drain cleaner can be a bit less than appetizing.
The stock, on the other hand, looks very tasty. In fact, Clorox recently boosted their dividend by 6.7% -- from $2.40 to $2.56 per share. So there are some new dividend yield levels to watch.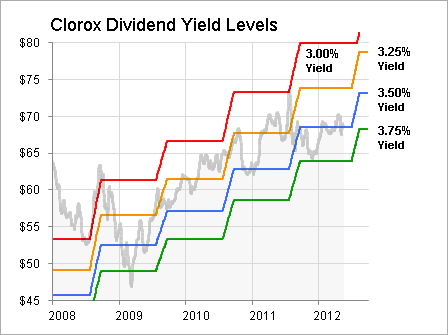 As you can see, the company has been regularly raising its dividend. Right now at roughly $67.80, Clorox yields around 3.5%. That will correspond to $73.14 once the new payment kicks in. And if the stock gets down to around $69, that will represent a yield of 3.75%.
With the upcoming increase, the payout has doubled since 2007 and is up 28% since 2009, Here's a look at the dividend payments and the payout ratio since 2004.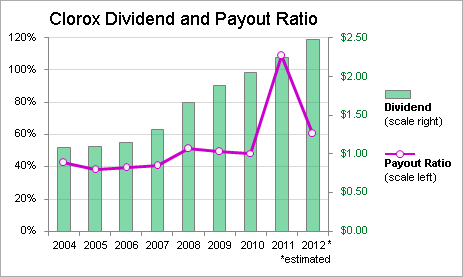 There's a lot of products you might buy that you didn't realize Clorox makes. Brita water filters. Kingsford charcoal. Pine-Sol cleaner. Fresh Step cat litter. Liquid-Plumr drain clearer. And there's plenty more. So the company has a pretty diversified range of consumer staples products.
Getting an 8.5% yield
Clorox may not seem like an exciting stock, but owning it can pay off. Here's a chart showing your total performance (including reinvesting dividends) Consider if you'd invested $10,000 in the stock just 10 years ago.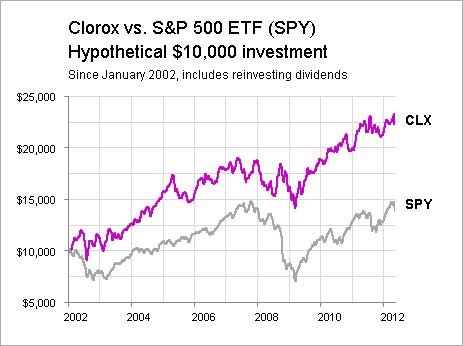 Not only would you have done far better than investing in the S&P 500 ETF (NYSEARCA:SPY), you'd own about 333 shares by now - so you'd now be collecting $852 per year, or more than 8.5% on your original cost basis.
In the past few years, the company's PE ratio has held fairly steady: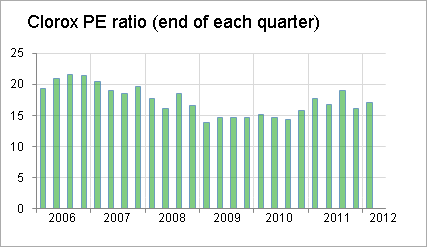 Although the current PE of about 16.8 is getting into the higher end of the range, consider the dividend and the company's diverse product line. According to the Clorox investor relations site, 90 percent of the company's products are either number 1 or number 2 brands in their category.
I also learned something else. According to Dr. Abel Wolman, a former public health official, "Bleach has saved more lives than any other substance ever made by mankind."
Something to think about the next time you're enjoying some KC Masterpiece barbecue sauce. Or maybe not.
Disclosure: I have no positions in any stocks mentioned, and no plans to initiate any positions within the next 72 hours.