AT&T (NYSE:T) is loved by dividend investors around the world. I take an opposite view and believe income investors should avoid AT&T at present prices. There are three core reasons to avoid AT&T: 1) the year over year revenue growth is a stagnant 1.8%; 2) the balance sheet has $60 billion in debt, which represents over 30% of the company's market capitalization; and 3) historical results indicate AT&T has provided subpar results for long term investors. Dividend investors have other choices to earn higher rates of return. AT&T is a creature of the past and the future offers two brighter high yields, in return versus risk, securities.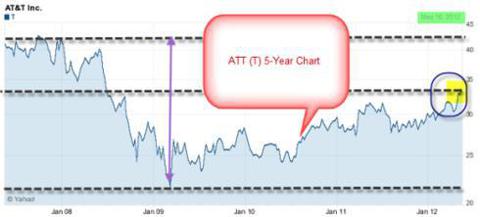 Overview: AT&T, before 1982, was America's predominant phone company until its court ordered breakup into seven regional Bell operating companies. One of those Baby Bells, Southwestern Bell (SBC), acquired the remaining assets of AT&T in 2005 and expanded within the U.S. with new branding, bringing back AT&T as a new company that, now, once again dominates phone communications in the U.S. albeit in a private, competitive industry structure.
AT&T, as we know it today, is headquartered in Dallas, Texas (NYSE:USA) and is the second largest provider of fixed line and mobile telephone, broadband, and cable TV services in the U.S. By revenue, it was ranked #12 in Fortune's list of the largest U.S. corporations for 2011.
1. Revenue Growth is Weak
The first reason to avoid AT&T shares is the slow rate of revenue growth. The 1st quarter revenue growth was 1.8% year over year. The landline segment will only decrease over time due to Skype and other instant messaging services.
2. Balance Sheet is Debt Laden
The second reason to avoid AT&T shares is per AT&T SEC filings, the debt level has remained constant between 2008 and 2011. The debt level is $61 billion. The company is not reducing the debt level. This is a problem.

My view is, however, that the stock does not account for the $61 billion in AT&T balance sheet debt. The balance sheet is a one core aspect about a stock. My preference is companies with a decreasing debt level. AT&T has an enterprise value of $257 billion. Enterprise value includes stock valuation plus debt. Debt represents 30.7% of AT&T's enterprise value.
3. AT&T's Stock Underperformance vs. the SP500
Both AT&T and Verizon (NYSE:VZ) have provided an average 2.4% return, each year, over the past 15 years. This weak yield does not even cover inflation. In 2012, I argue that the landline operations will erode the telecom's revenue source. Microsoft (NASDAQ:MSFT), with zero debt on its balance sheet, owns Skype which allows for free phone calls. Google (NASDAQ:GOOG) offers free phone numbers. These disruptive technologies that can slowly but surely take market share away from AT&T and Verizon.

Verizon has a 4.9% dividend yield. The stock has a high debt to market cap level. I would avoid Verizon shares as the 30 year Treasury Bond market sank today to 2.80%. My Verizon account is $250 for one phone and one iPad2 Internet access. I believe I pay, kidding, $240 of the $250 monthly bill in unknown taxes. I'll switch in a heartbeat. Verizon and AT&T simply do not offer innovative products. They aren't utilities as I can clearly find substitutes.
Business Strategy: AT&T draws revenue from broadband services, fixed line services, and growing revenue from mobile and mobile broadband services. Moving forward, AT&T believes that mobile broadband is on the brink of exploding - enabling consumer electronics and machine to machine devices with wireless connectivity that will drive demand and industry innovation. AT&T further believes that these emerging devices will define the competitive environment in the U.S. for the next 10 years.
Moreover, AT&T was the first provider to launch Apple's hugely successful iPhone and is in an enviable position of strength to leverage revenue and market share opportunities from mobile broadband while also maintaining its core revenue from other services.
On the business side, AT&T focuses on Virtual Private Networks (VPN), including services such as hosting and hosted applications.
Quarterly Update: Let's start with the table below to get a snapshot of AT&T's revenue segments, the growth they have experienced when compared to a year-ago quarter and their contribution to total revenue. As the table shows, for AT&T's first quarter ended March 31, 2012, wireless service (mobile voice calling plans, data plans, messaging services, etc.) contributed the most to revenue, almost 46%. Wireless equipment contributed just 5% to revenue. Combined, wireless contributed 50.7% or slightly more than half of AT&T's revenue. Wireline data (business services, IP video, IP voice) contributed 24.5% to revenue. Wireline voice brought in 18.5% and other wireline services contributed 3.9%. Advertising Solutions and Other services contributed 2.4% to revenue.
Next, in absolute dollar terms, wireline data revenue grew the most, up $624 million (8.7%), followed by wireless service which gained $605 million and was up 4.3%, and finally by wireless equipment that gained $221 million in revenue and was up 16.4%. Every other segment saw revenue drops relative to the year ago quarter.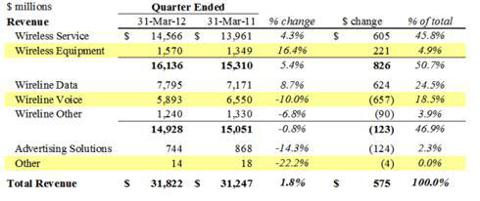 Altogether, AT&T saw revenue increase 1.8% to $31.8 billion from $31.2 billion a year ago. More specifically, within the wireless segment, wireless data revenue increased by over $1 billion and was up 19.9% over Q1 2011; revenue from strategic business services (application services, hosting, IP conferencing, VPNs) grew 19% to $6.2 billion; and revenue from AT&T's U verse offerings (TV, high speed Internet, voice over IP and more) was up 38.2%.
In the quarter, AT&T sold 5.5 million smartphones, well above the previous first-quarter record, and had 103.9 million wireless subscribers of which almost 60% had smartphones - which is good because AT&T generates 90% higher ARPU from smartphone users than non-smartphone users. It added 726,000 new wireless subscribers, reduced post-paid wireless churn to 1.1% and increased average monthly revenue per subscriber (ARPU) 1.7% to $64.46. U-verse subscribers increased to over 6 million in the quarter.

Wireless led the pack with a whopping 69.2% contribution to income followed by wireline with a 28.8% share of total income for the quarter. Note however that wireless income grew 11% while wireline income was up merely 2.4%. So clearly, wireless is a significant driver of revenue, profit and growth at AT&T while wireline services continue to contribute about a third to the bottom line. Advertising Solutions and Other dropped significantly and are almost insignificant contributors to revenue and profits, relatively speaking.
For the quarter, net income was up 5.2% to $3.6 billion from $3.4 billion in the year-ago quarter. Earnings per share rose 5.3% to $0.60 from $0.57. AT&T generated $7.8 billion in cash from operating activities, and excluding capital expenses, generated $3.5 billion in free cash flow.
At quarter end, AT&T held cash and cash equivalents of $2.4 billion, down from $3.2 billion in the year-ago quarter; total assets of $269.4 billion; long-term debt of $58.9 billion; and stockholders' equity of $105.2 billion.
Dividends Update: In Q1 2012, AT&T repurchased 67.7 million shares at a cost of slightly over $2 billion and paid out a dividend of $0.44, up from $0.43 in every quarter of 2011 - the 28th consecutive year of dividend increases. With AT&T shares trading in the $33 range as of May 2012, AT&T had a dividend yield of 5.3%.
Shares: As of May 17th, AT&T shares traded in the $332.9 range with a trailing price to earnings ratio of 48.2 and a market capitalization of $194.6 billion (1.9x book value). Yes, the $3 billion T-Mobile is cash and impacts free cash flow. AT&T shares are high in demand and a staple of most mutual funds, and individual and institutional holdings. As the 10 year chart below shows, AT&T shares are down versus the SP500. Per the AT&T website, here is AT&T price versus the SP500 10 year comparison: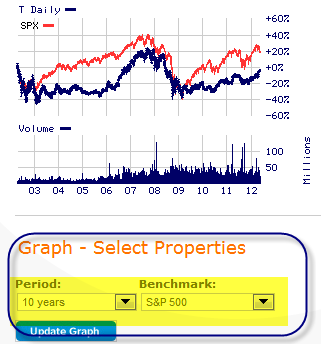 Business Outlook: As mentioned earlier, AT&T is well entrenched to capitalize on growing mobile broadband opportunities, while also preserving core revenue from its core wireline voice, data and managed services segments.
Competition: AT&T's largest competitor is Verizon , which offers the same products and services as AT&T. Other main competitors include Sprint (NYSE:S) and T-Mobile. Lesser competitors include TracFone Wireless, MetroPCS, U.S. Cellular and Cricket.
Summary: AT&T is clearly a top two player in its space. It is well positioned to capitalize the demand for mobile broadband, fixed broadband and residential and business communications services. AT&T is a highly liquid stock and is a core holding for institutional and retail portfolio. Its solid dividend history also makes many investors consider it a dividend darling.
If I personally owned shares in AT&T for the yield, I would sell the shares today. A 7% yield can be achieved through iShares iBoxx $ High Yield Corporate Bond (NYSEARCA:HYG).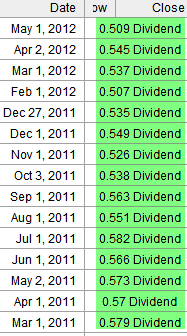 Microsoft, with zero debt and billions in cash on its balance sheet, offers a 2.6% annual yield. The dividend is increasing, however, at a rate far faster than AT&T. Microsoft's free cash flow allows opportunities to move into growth markets. I use Skype for free and am very pleased. I don't know what my $250 monthly phone bill is for, but Skype offers the product for free. Yes, the telecom times are changing.
Disclosure: I am long MSFT.