8x8, Inc. (NASDAQ:EGHT) is the leading provider of cloud communications and computing solutions for small-to-medium businesses, enterprise, and government agencies. The company's products are a suite of SaaS and IaaS solutions which include hosted telecommunications cloud software, contact center, unified communications, video conferencing, cloud hosting, and virtual private servers. The company has a portfolio of 79 patents with the USPTO and more patents pending. We believe, due to the current environment in which legacy equipment providers are seeing their business deteriorate rapidly and lose their market share to the cloud, this tectonic shift will likely force a large competitor to purchase 8x8 in the next 6-12 months for a premium of at least 2X current market-cap. We estimate 8x8 could be acquired for at least 8.00-12.00/per share next 6-12 months.
Recent Financial Results
The company recently reported financial results for Fiscal Q4 2012. Revenue from business customers increased 44%. Total revenue for the quarter increased 33% YoY to $24.2 million. Average monthly revenue per business customer was $244, compared with $204 in the same period last year. Business churn remains at record lows. Gross margins came in at 68.4%, and service margins at 76.1%. Cash on balance sheet increased by $2.4 million to end the quarter with $24.4 million in cash, cash equivalents and investments.
These numbers, by any means, are the foundation for a company that is growing rapidly and is experiencing the largest growth rate in the company's history. The company continued to announce that in the coming months, they intend to expand globally through new and existing partners.
Rapid Market Penetration
The space in which 8x8 currently plays is growing tremendously. According to a recent presentation by Frost and Sullivan, Hosted IP Telephony Lines should increase from 2.1 million in 2012, to 9.7 million in 2015.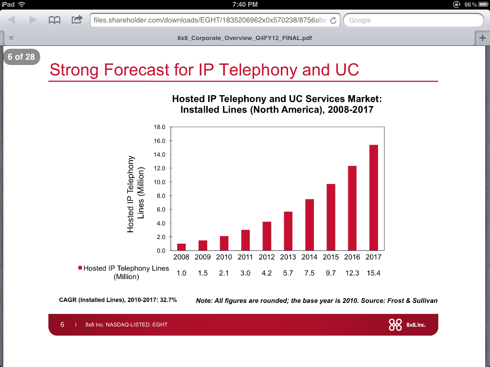 In March of 2012, Frost and Sullivan came out with an analysis which listed 8x8 as the top provider of installed IP telephony lines in North America (2011). When you look at the list of large telephony service providers on this list, and realize that 8x8 is listed ahead of Comcast (NASDAQ:CMCSA), Verizon (NYSE:VZ), RingCentral, Smoothstone, and AT&T (NYSE:T), it simply backs our thesis that it is not a matter of if, but when, 8x8 gets acquired by a large service provider.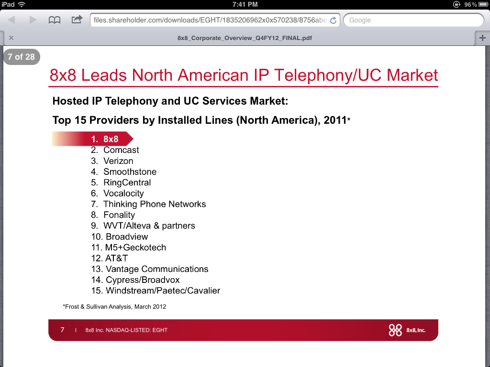 8x8 is stealing market share from large hardware providers such as Cisco (NASDAQ:CSCO), Avaya, NEC, Mitel, and Toshiba. All of the aforementioned companies continue to see their market share erode from companies such as 8x8 who play in the future of the business: the cloud. We feel, it would make sense for a Cisco or Avaya to buy 8x8 as hardware companies will continue to see their legacy business erode and lose market share. On-Premise providers such as Cisco provide hardware which carries capital equipment costs of hundreds of thousands of dollars up-front to enterprise customers, and, further, monthly expenses. On a hosted model such as 8x8, there is minimal upfront costs and a much smaller monthly cost to the customer.
As you can see below, 8x8 rivals the largest equipment providers in the world in terms of customer deployments.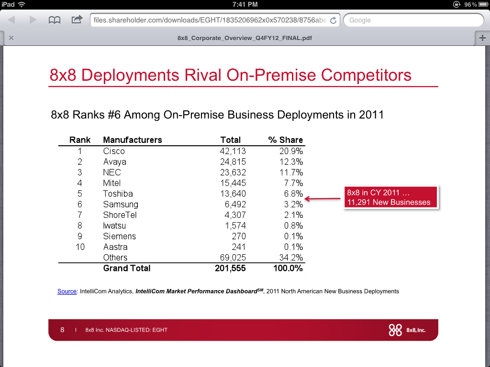 As 8x8 moves into the more lucrative enterprise and government markets, it also begins to take large amounts of revenues away from legacy telecom and equipment providers such as AT&T, and Cisco, respectively. As you will notice, 8x8 has a client list of top multinational companies who continue to save hundreds of thousands of dollars per year using their services. Again, this supports our thesis as to why 8x8 is a likely takeover target in the near term - larger competitors continue to lose market share to the cloud and 8x8.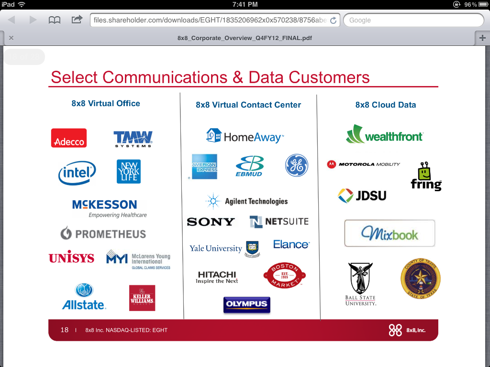 8x8 continues to take market share from the competition in the government space. The Federal "Cloud First" Initiative is based on government agencies, state, local, and Federal, moving their expensive infrastructure to the modern cloud infrastructure. Please notice, 8x8 is having a high degree of success in this area and continues to add large customers listed below.
The growth at 8x8 is consistent and will only accelerate in our opinion. The company continues to add larger and more lucrative contracts to its base, such as the ones in the aforementioned slides. The company continues to expand its large channel sales initiative and we would expect sales to continue to accelerate as the channel becomes a larger portion of sales.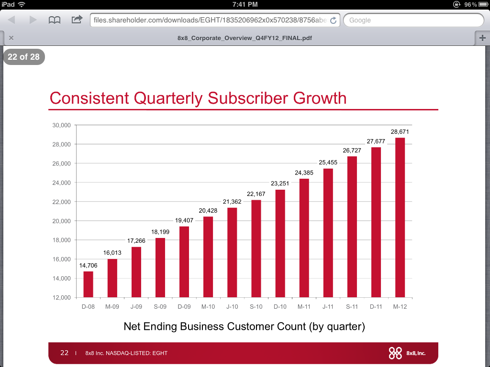 Valuation
8x8 is currently valued at approximately $270 million. We believe it is highly undervalued from a current fundamental standpoint. We believe the company can continue to rapidly grow at a rate of at least 20% YoY, and could potentially see current FY 2013 revenues approaching $115-$120 million. The market is currently appropriating no value, we feel, to the company's 79 USPTO patent portfolio. We estimate the intellectual property value could be anywhere between $50 to $100 million as they hold key patents for hosted PBX, web conferencing, and IP telephony data signaling. All of these patents are directly correlated to the cloud, and the future of telephony for the next 100 years.
Based on a recent acquisition by Shoretel (NASDAQ:SHOR) in which they acquired privately-held M5 Networks for approximately 6X trailing service revenues, this metric would value 8x8 at approximately $7.00/share. We feel that due to 8x8's patent portfolio, they would deserve a much richer valuation. Based on our current revenue estimates for FY2013 in neighborhood of $115-$120 million, we would estimate that, including the company's intellectual property portfolio, 8x8 could be acquired for $750,000,000 or $10.71/share. Based upon acquisition metrics in the past 12 months in the cloud space, we feel these are very reasonable assumptions.
As we highlighted, 8x8 is taking market share away from the largest legacy players in the telecom area. We feel that it would only make sense for one of these players to make a rich bid for 8x8 to enhance their current offerings, and established themselves in the cloud. Accordingly, we believe their is a high degree of confidence in our thesis that one of more companies will bid for 8x8 in the next 6-12 months.
This is our thesis for our position in 8x8, please do you own due diligence as we make no recommendations.
Disclosure: I am long EGHT.
Additional disclosure: This is not an offer to buy or sell, and not a recommendation. This is our own thesis as to why we have a long position in the company. Please do your own due diligence and come to your own conclusions.