GSC Investment Corporation (GNV) is the first Business Development Company [BDC] to report earnings in the New Year. GNV is a smaller BDC with only $200mn in assets, but is managed by the GSC Group, a multi-billion dollar asset management company. The Company is on a February 2008 fiscal year-end, so the books closed for the latest quarter at the end of November 2007.
We had a hard look at GNV's results, both for their own sake (we have a major position in the stock) and to get a preview of what we might expect from the many more BDCs reporting year-end results as of December 31 2007. We came away satisfied with the quarterly financial performance of GSC Investment, but were even more impressed with the financial engineering management is undertaking in the current strained economic environment to increase earnings. The jury, though, is still out as to whether GNV will succeed.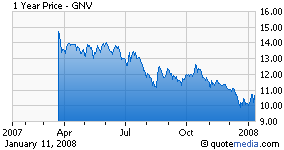 First things first: the financial performance of the Company was mixed for the period. GNV achieved a record Net Investment Income Per Share (or "NIIPS") of 37 cents (up from 36 cents the prior quarter), but this does not mean much as the company's IPO only happened last spring. The dividend for the quarter ended November 30 2007 was 38 cents, up two cents. Plus the Company distributed 18 cents a share of realized capital gains for the year. The average yield on the senior loan-heavy portfolio was a creditable 11.8%, also up from prior quarters. There was no "bad debt" , or at least no loans on non-accrual. However, the Company had to write down several more loans during the quarter, and added a couple of new names to their credit "Watch List". $3.6mn of loans were written down, bringing the total for the first nine months of the Company's history to over $7mn of "unrealized depreciation". Some of the write-downs reflected the need to reflect market prices for loans which are being held to maturity.
However, there are serious credit issues swirling around at least 3 portfolio companies, including Atlantis Plastic Films ($0.5mn write-down to date), Eurofresh (($2.1mn write-down) and McMillin Companies ($1.8mn write-down). Plus there were minor write-downs in 18 other companies, or just about half of all portfolio companies. Eurofresh may yet fail to make a scheduled interest payment, which would be the first non-accrual loan on the books. Anyway, for the quarter these provisions cost ($2mn) or 24 cents a share. NAV dropped to $13.51 a share.
The story here, though, is that the market had marked down the stock to a low of $9.68 just a few weeks ago, and still has the stock at $10.84. This suggests the market expects over $20mn in further permanent write-downs at GNV. The 3 troubled companies we're aware of have a fair value remaining of around $16mn. Even if they all have problems it's unlikely GNV will have to face a realized loss of more than a few million dollars, given that these are senior loans and the portfolio companies are typically supported by well financed sponsor groups (who may or may not be rescuing EuroFresh as we write this). Still, for sake of argument, let's assume $20mn worth of loans (at cost) go into non-accrual, GNV will be bloodied but not destroyed. We project the quarterly Net Investment Income Per Share would drop from 37 cents to 31 cents. That's still an OK 11.4% yield on today's stock price.
Most of our attention, though, should go to GNV's decision to use its remaining cash and borrowing capacity to launch a $400mn CLO Fund, which one of its affiliates will manage. Just the fact that CLO funds are getting done in this market is interesting. We're also intrigued by the $30mn in equity capital which GNV is investing in this CLO, which will be comprised of senior secured loans almost exclusively. The Company is not doing this for the management fees (which will be modest), but for the residual earnings which should flow to the "equity" holder of the CLO. If everything goes well GNV should earn 15-25% per annum on its investment, because this is high risk-high return money. (For example, Kohlberg Capital reported earning 22% on its CLO investments last quarter).
This translates into over 40 cents a share of incremental Net Investment Income Per Share a year, or 10 cents a quarter after considering management and administration fees and the cost of debt. Of course if the CLO is a dud and a complete write-off deduct 4 cents a quarter from Net Investment Income Per Share. In a nutshell, we'd say GNV has just rolled the dice. With no access to new capital at this time because the market price of the stock is below NAV (a BDC rule), management has decided to pump up its earnings by putting $30mn of its assets (about 15% of the ultimate total) into this potentially high paying CLO investment.
If everything works out, and GNV dodges any material loan write-offs, we could see Net Investment Income Per Share reach 47 cents later in 2008, a 27% increase over the latest quarter's performance. That's a remarkable 17.3% yield on today 's price. However, if the CLO Fund investment gets written down to 0 and 10% of the loan portfolio stops paying, we'll see NIIPS of 27 cents ($1.08 a year), which represents about a 10% yield. We are concerned that credit quality at GNV is already deteriorating at the Company after less than a year in business, and presumably would only get worse if we are in a recession in 2008. We'd like to think that the Company can avoid any serious credit problems, but we'll have to keep our fingers crossed.
Disclosure: Author has a long position in GNV