My goal moving forward in a very volatile and uncertain economy is to invest in stocks that I believe to be value investments. So far in 2012, I have written several articles expressing my beliefs that the absolute best value in the market is in the biotechnology space, and in small and midcap stocks. This is because the market's rally in 2012 was led mostly by large cap stocks such as Apple (NASDAQ:AAPL), International Business Machines (NYSE:IBM), and others that weigh heavily on the market. Therefore, I have chosen to invest in the small and midcap space and have continued to keep my eyes open for any possible investments, more specifically, in the biotechnology space.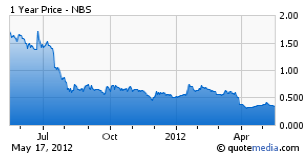 Below we shall look at NeoStem (NBS), my most recent investment, a company that I believe fits perfectly into my goal of acquiring value in the biotechnology space. As a stock, it has the potential to return very large gains regardless of the market's short-term direction.
NeoStem's CEO, Dr. Robin Smith, sat down with Bloomberg's Pimm Fox on the popular show "Taking Stock" for the program's CEO sit- down. During the interview, the CEO answered questions regarding what I consider to be a confusing business structure. This is a company that I feel is particularly undervalued following its latest round of financing, a company that has significant upside potential in a growing industry that is gaining momentum. Let's take a look at what Dr. Smith had to say during the interview, with Pimm Fox, and how she explained the company itself.
Clinical Developments
One-in-five people after they survive a heart attack die within a year's time. So imagine if you could take your body's stem cells and inject them into the heart to lay down new blood vessels, to repair the damaged tissue, and prevent worsening of heart function.
In the above statement Dr. Smith was explaining the benefit of the company's Phase II candidate AMR-001. This is a drug that seemingly has a lot of potential, a drug that has already been proven to be both safe and effective. The treatment itself seems a bit odd and unusual because it doesn't compare to any other standard of treatment.
However, this is a company that has manufactured over 30,000 cell therapy products and is, perhaps, the leader in the industry of developing cells with success. Therefore, it has seen all cell therapy types and knows which work the best and for which purposes, and it has chosen to develop its own using CD34+ stem cells.
Analyst's Opinion
NeoStem has multiple catalysts for growth with one being the company's lead candidate AMR-001. JMP Securities has a $3 price target on the stock and estimates that 1.25 million people in the U.S. suffer from acute myocardial infarction per year, which is the disease associated with AMR-001. The analyst projects AMR-001 will treat 150,000, annually accounting for $715 million in the U.S. alone. This would result in a substantial amount of upside for this sub- $50 million company.
A Leader In Cell Manufacturing
In the interview Dr. Smith discusses its PCT business:
Our manufacturing side of the business, the service business, is where we help other clients develop cell therapies and commercialize those cell therapies, and manufacture them, as they continue to grow through clinical trials.
The manufacturing business is where I believe the most amount of immediate upside lies. Although the upside is large, it is very hard to predict future revenue. The company currently returns between $10 and $15 million annually from its PCT business, which manufactures cell therapies for a number of both large and small companies.
A Diversified Clientele
NeoStem actually manufactured the cells for Dendreon (NASDAQ:DNDN) throughout its clinical trials. At the time, Provenge was considered one of the most advanced and best drugs under development, and the company hired NeoStem to manufacture the cells because of its expertise and its capabilities as a facility. The company also has clients such as Becton, Dickinson & Company (NYSE:BDX), Baxter (NYSE:BAX), and even Johnson & Johnson (NYSE:JNJ). There are also a number of smaller companies using NeoStem's services as well as mid-sized companies such as Hospira (NYSE:HSP).
Basically, its services reach out to all companies in the field that are developing cell therapies and the goal is that, after approval, the companies will sign long-term manufacturing contracts with NBS to develop the therapies into the market, which is realistic because of costs associated with building the facilities. This, in turn, will allow NBS to earn royalties from the sales of cell therapies, an industry that is gaining momentum in the biotechnology arena.
There are several costs associated with manufacturing cells that companies who work with NBS may want to avoid. NBS has 50,000 square feet of manufacturing capabilities, has manufactured 30,000+ cell therapy product procedures, and delivered 5,000+ cell therapies to patients for more than 100 clients. Thus, it's safe to say that its facilities are among the best and its employees are very experienced to manufacture such a diversified collection of cells. It would cost corporations a significant amount of money and time to meet NBS in manufacturing capabilities, and several companies may elect to use NBS once drugs become approved.
Dendreon did not use NBS once Provenge gained approval. Some may argue that it has suffered as a result of its decision to spend the money while trying to develop its cells elsewhere, especially considering that Provenge has not lived up to expectations. Hence, I believe that over the next several years, as these late stage candidates are awarded approvals, we will see many of the companies sign long-term contracts that will provide consistent revenue to NBS.
Cash Options
An immediate catalyst for growth is the company's large interest in a generic pharmacy in China. It has been verified through SEC filings that NBS plans to sell its stake in the business, which would provide the company with a sizable amount of cash. Dr. Smith said the following in regards to the generic business:
We have a profitable interest in a generic pharmaceutical company that we are divesting." She added, "We believe we'll be able to monetize it and invest in the cell therapies where we think there will be a great return for our investors.
The above statement implies that the generic company is being shopped my NeoStem and that it has every intention to sell its large stake; some analysts value NeoStem's stake to be well over $35 million. The sales of the company have doubled over the last three years, thanks to a boom in the Chinese healthcare system. If the company can sell its stake in the fast-growing generic pharmacy, then it would create instant optimism as the company would have a significant amount of cash to move forward with its other ventures.
Financing
The problem with this company has nothing to do with its operations, its candidates, or manufacturing business, but rather its financing. The company just recently finished a round of financing which pushed its stock down to current levels. This is normal in the biotechnology space, for stocks to trade lower following financing, but if the company can sell its 51% stake, then it wouldn't have to worry about cash for quite some time.
Revenue, Cash, & Value
Over the last 12 months, NBS has returned revenue of $76 million from both its generic pharmacy and its PCT manufacturing business. It has a price/sales of just 0.60, which puts the company in an interesting position because most biotechnology companies do not produce consistent revenue while in the developmental phase. It gives the company leverage to be able to sell the assets that return revenue for cash, which will give it the ability to invest into its developmental segment that could produce nearly $1 billion in annual revenue following an approval.
As a value investment, I definitely think NBS presents a significant amount of upside, but as a long-term investment. It has all the potential catalysts that I look for in a developmental biotechnology investment which include a potentially blockbuster product, an attractive valuation, expertise within the company, and encouraging early results.
Conclusion:
Last month I began covering the stock and, although I have been bullish, I have only identified it as "misunderstood" and with "potential". It wasn't until Thursday that I initiated a long position at $0.3473. The reason I initiated the position is because of the reasons that I have mentioned above, regarding its potential, leverage, valuation, and likelihood of success. This is a company that has manufactured cells for years and has the best facilities and the brightest minds in this particular industry. Therefore, I am encouraged that the company understands how to properly develop a cell therapy that will be effective and highly profitable in AMR-001.
I find it even more reassuring that Baxter is using NBS for manufacturing purposes of its Phase III candidate, which is strikingly similar to AMR-001. The company is valued under $50 million, has a late- stage candidate, over 30 patents issued, over 90 patents pending, a strong balance sheet, and the leverage to sell a fast growing pharmacy company for cash to develop its potentially billion dollar cell therapy drug. To conclude, at $0.35 with a $50 million market cap, it appears to be a no-brainer and a true value play for several years to come.
Disclosure: I am long NBS, AAPL.
Additional disclosure: All data can be found within the company's corporate presentation on its website.