Shares of Chinese gaming company NetEase Inc (NASDAQ:NTES) hit a new all-time high following better than expected earnings. NTES shares are now up 241% over the past five years. Similarly, other Chinese internet stocks such as Baidu (NASDAQ:BIDU) and Sina (NASDAQ:SINA) have had impressive moves over the past few years. However, NTES is the only Chinese internet stock with momentum right now.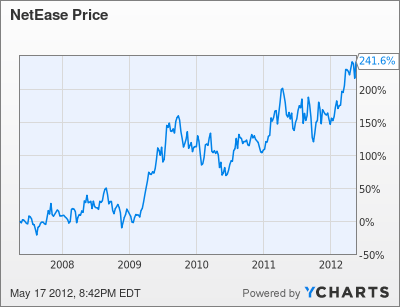 As you can see in the chart below, shares of NTES have remaind strong while BIDU and SINA have lost momentum.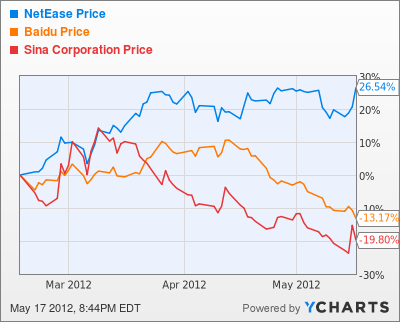 Shares of more speculative Chinese internet companies such as Renren (NYSE:RENN), DangDang (NYSE:DANG), Giant Interactive (NYSE:GA), and Yoku (NYSE:YOKU) have all done very poorly over the past year. While some of these stocks have done well at times, none of them have built up much momentum compared to NTES.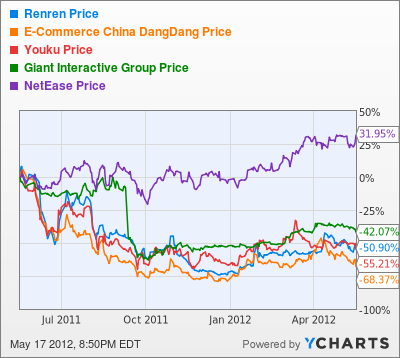 For NTES, in addition to the technicals, the fundamentals are very strong.
Valuation
NTES trades at 15.5 times past earnings, 11.95 times forward earnings, and has a PEG of just 0.75. None of these metrics support the case that NTES is overvalued. Rather, these numbers support the fact that NTES has done an outstanding job growing earnings to match the increasing stock price.
Cash
Currently, NTES has just over $2 billion or $15.59 per share in cash and no debt. NTES could use the cash in a variety of ways. NTES could initiate a dividend, buyback stock, or use the cash to buy another company. In any event, the cash represents an important potential bullish catalyst.
Conclusion
From noted market commentator Dennis Gartman's 22 rules of trading:
The objective is not to buy low and sell high, but to buy high and to sell higher. We can never know what price is "low." Nor can we know what price is "high." Always remember that sugar once fell from $1.25/lb to 2 cent/lb and seemed "cheap" many times along the way.

Sell markets that show the greatest weakness, and buy those that show the greatest strength. Metaphorically, when bearish, throw your rocks into the wettest paper sack, for they break most readily. In bull markets, we need to ride upon the strongest winds... they shall carry us higher than shall lesser ones.
Investors who are looking to ride the momentum in Chinese interest stocks should consider NTES instead of other names such as BIDU, RENN, DANG, GA, SINA, or YOKU.
Disclosure: I have no positions in any stocks mentioned, and no plans to initiate any positions within the next 72 hours.