It is to little surprise that the SPDR Emerging Middle East & Africa ETF (NYSEARCA:GAF) receives minimal news coverage. Eclipsed by the Gibraltar-like financial strength of the emerging markets in China, Brazil, India, and Russia (and the ETFs that track them), there seems to be no room in investors' portfolios for countries with sub double-digit growth rates.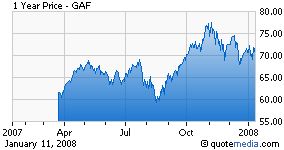 Lately, the only press coming from Africa is that of the corruption in Kenya, the Jihadi-ridden Somalia, and persistent poverty and tribalism that continuously envelops the continent. Not a problem for investors in the Emerging Middle East & Africa ETF. The fund does not fully cover the territories its title may imply. The "Emerging Middle East & Africa" ETF is heavily weighted around three countries—South Africa (65%), Israel (17%), and Egypt (6%).
South Africa has experienced steady and constant growth for several years now. GDP has increased by 4.8% in 2004, 5.1% in 2005, 5.0% in 2006, and 4.7% in 2007, with estimated growth in 2008 of 4.2%. Also, as the worlds leading gold mining country, South Africa is in excellent position to reap the benefits of $900 gold and its continual upward rise. With the FED only weeks away from the January 30th meeting, there is a high probability of a 50bp rate cut due to continuing credit market deterioration. This may lead to traders bidding down the dollar and fleeing to gold.
On the technical side, there seems to be an inverse relationship between the market price of GAF and the 10 year note yield. As the FED plans to slash the Fed Funds rate to 4% or 3.75%, the 10yr benchmark will likely follow the yield to comparable levels. As seen in the chart below (click to enlarge), the inverse relationship is apparent since the inception of the fund. Most notably, when rate cuts began in October the 10 year note yield fell and the market price of the SPDR Emerging Middle East & Africa ETF (GAF) rose.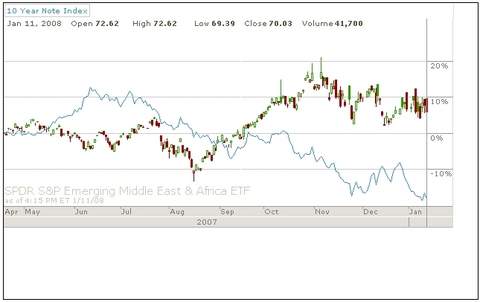 If the past is any indication of the future then the SPDR Emerging Middle East & Africa ETF may be in for sizeable gains in 2008. Long term investors with convictions that gold futures will remain at high levels and the Fed will continue to slash rates may benefit from this crafty ETF.
Disclosure: Author has a long position in GAF