Environmental Power Corp. (NASDAQ: EPG) has quietly been making a lot of deals and, thus far, has gone unnoticed by the general investing community. They own and operate renewable energy facilities for the production and commercial application of methane-rich biogas from agricultural livestock and organic wastes. EPG has an exclusive license in North America for the development and deployment of an anaerobic digestion technology for the extraction of methane gas from animal wastes for its use to generate energy. This not only allows farmers to rid themselves of the waste which can elevate the phosphorus and nitrogen levels in the soil, it also removes much of the odor from the air. Most importantly, it generates energy in the form of electricity or RNG ® (pipeline grade purified biogas). EPG will also receive carbon credits in the future, for which they are already contracted for the sale of up to 65,000 tons worth.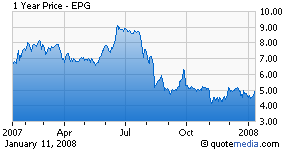 This technology is popular with environmentalists because Methane from animal waste has a global warming effect that is 21 times that of carbon dioxide. State Representative Sid Miller attended EPG's opening of the most recent plant at Huckabay Ridge and commented:
This is a turning point in agriculture. ... Agriculture is no longer just food and fiber; it is now food and fiber and fuel.

[...]

Agriculture is going to be responsible for producing a large percent of the world's fuel.
The academic community seems to agree with Rep. Sid Miller's assessment as well, according to a report by the University of Tennessee Department Of Agricultural Economics:
..Texas will lead the nation in renewable fuel production and will reap a $22.8 billion boost to the economy in the process.
The growth opportunities for this company extend pass the millions of dairy cows in Texas and California (of which they can construct 1 system for each 10 thousand). EPG recently broke ground on a biogas facility at JBS Swift Meat Processing Plant. JBS Swift is the largest beef processing company in the world. This is a 15-year purchase agreement from them. The two companies have indicated that they are pursuing projects at six other JBS Swift meat processing plants in the USA. Apart from this JBS Swift deal, they have 10 other plants in the works in various states and with high profile partners such as PG&E, Cargill and Joseph Gallo Farms.
Quercus Trust has taken an addition interest in the company as of late and has added to its now 12% stake of the company. People familiar with the fund will know they have had a great amount of success investing in green energy companies in the early stages. 3 separate insiders, including the CEO have also made share purchases on the open market. The company also increased its investor visibility by switching its common stock from the AMEX to the NASDAQ exchange on December 21, 2007.
As with all early stage companies there is an inherent risk, but the downside of this company are seemingly limited by the overall climate of alternative energy hunger that is being brought not only by the White House in the form of a new energy bill, it is also in the forefront of this Presidential debate where all of the top candidates on both sides are on the side of the type renewable sources of energy that EPG can provide. As it has been seen with other small cap 'green energy' companies, such as Converted Organics (NASDAQ: COIN), once the broader investment community becomes aware of emerging companies, their stocks have the potential to be extremely profitable to those in early.
Disclosure: Author has a long position in EPG