Shares of high-end Midwest and Southeast appliance retailer Hhgregg (NYSE:HGG) are down over 28% in the first two weeks of 2008 amid fears consumer spending cutbacks and a housing collapse will hit its earnings. Barron's The Trader says investors may be overlooking the company's potential resilience.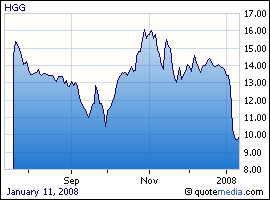 Hhgregg's high-end clientele -- who frequent the store for luxuries such as same-day delivery/installation and some customization -- have weathered the economic turndown better than most consumers. Sales and cash-flow growth have shown no signs of letting up; HGG raised its guidance in November. Furthermore, the Midwest, which didn't fly as high as some areas during the recent economic boom, has less far to fall as bull turns to bear.
Cynics worry the company will miss coming earnings estimates, and that share-selling could accelerate after its Jan. 15 post-IPO lockup expiration. But Barron's says investors with an eye for the longer term who have patience to wait for a good entry point (i.e. after the lockup expiration selloff) are getting a solid discount on a well-run company. Shares should bounce strongly if the current slowdown proves to be shallow, and even if the slowdown deepens, consumers are more likely to spend their extra cash on durable goods than on vacations or fancy cars.