Emmis Communications (NASDAQ:EMMS), a leading major market broadcaster and publishing company, released its fiscal Q3 earnings report on Wednesday in what is usually an early preview of broader radio industry reports to come. Calling Emmis "the canary in the coal mine" in his conference call after the release, CEO Jeff Smulyan fulfilled the markets low expectations for earnings, going as far to state that "this is the worst point in the history of the industry".
So why did Smulyan follow those comments with a statement that he was "surprisingly upbeat" about his company and the future of radio advertising? In short, he said "I think this is probably the bottom" and that his peers in the industry are "reinvigorated", a statement that some may interpret to mean that broadcasters are simply mad as hell and aren't going to take it anymore. He points to the many success stories going on in the industry that no one is talking about, specifically the expanded cume audience radio is discovering by introducing Arbitron's (NYSE:ARB) controversial Personal People Meter or "PPM", an electronic ratings measurement system, to their local markets.
In quoting Entercom (NYSE:ETM) CEO David Field, Smulyan said "if the New York Times suddenly found that they had 3 million more readers in New York City, they'd be having a parade down 5th Avenue". He was referencing that fact that while many in the industry have complained about PPM findings showing audiences tend to listen for much shorter lengths than previously assumed using the pen and paper diary system, they are finding that a lot more people listen to radio overall at some stations. Emmis, Smulyan says, has reported 4-5 million additional listeners using the PPM, but seems frustrated that "everyone is saying radio really has trouble".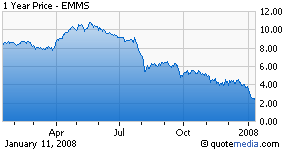 Overall, Emmis appears to have actually done a little better than the market was expecting, but that's coming after a very disappointing trailing twelve months of activity. According to Wachovia analyst Marci Ryvicker, the results were "not encouraging, as the company underperformed in almost every instance." She further goes on to state that it was strong gains in international radio that offset a more than 7% decline in domestic radio over the same period last year, and overall the radio division showed a 3.2% decline for the period. National ad sales seem to be the main culprit for Emmis, dropping 26% while the markets it serves generally saw a 12% decline, meaning not only are the markets tough, but its losing share to the competition simultaneously.
If one were to believe Smulyan that Emmis and radio have seen the bottom, then this would signal the moment to buy in, but the radio industry reported similar predictions of a bottom this same time last year. In my opinion as previously examined this past week, only Cumulus Media (NASDAQ:CMLS) and Westwood One (WON) look appealing right now on the buy side due to valuation and broader corporate activity.
If Emmis is radio's canary, as this earnings season kicks off investors would be wise to stay out of the mine.
Disclosure: none