Cash is perhaps one of the least exciting but equally important (if not more important) asset classes that serve as the foundation for our everyday life as well as long or short term investment portfolios. Cash represents one of the four pillars in the following four corner foundations: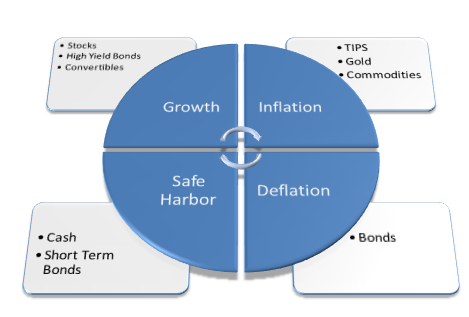 Many investors have a common misunderstanding that one cannot do very much with cash. Thus, they don't know or simply don't want to deal with cash investments. However, cash or short-term investments are paramount to everyday life. Regardless of whether you are a retiree or a working person, you'll have much need to stash a relatively large sum of cash for immediate usage in a 1- to 5-year time frame. With today's uncertain stock markets, cash and short-term investments have an increasingly important role in your portfolio.
For example, in both the Harry Browne Permanent Portfolio Plan and the 6 ETF Permanent Income Portfolio, cash represents about 25% of a portfolio allocation. This is not a small amount.
With today's zero interest rate environment, investors and savers turn to CDs offered by their banks for cash investments. But the rates are still low.
On the other hand, investors can try to use (ultra) short-term bond funds such as iShares 1-3 Year Credit Bond Fund (NYSEARCA:CSJ) or even high-yield bond funds such as HYG or JNK. The problem with using these ETFs is that these funds do not have fixed maturity and thus do not have guaranteed return of capital. They are not appropriate for cash or short-term investments.
Fortunately, a recent important bond ETF offering eliminates the above drawbacks. The following Guggenheim Bulletshares fixed maturity bond funds offer both diversification and affordability:
The high-yield bond ETFs:
Let's take a look at Guggenheim BulletShares 2012 High Yield Corporate Bond ETF (NYSE:BSJC):
Number of holdings: 47
30-Day SEC Yield: 5.13 %
Weighted Average Yield to Maturity: 4.70 %
Weighted Average Yield to Worst: 2.03 %
Expense: 0.42%
Bid/Ask Premium (Discount): -0.16%
Volume: 40,544
The main drawbacks are a bit high expense ratio (it would be nice to reduce it to the corporate bond ETF's expense ratio 0.24%), relatively low volume (but still reasonable for a patient investor).
For the above fund, basically, one can expect to have annual yield from 2.03% (using yield to worst, which is the worst scenario by taking defaults and recovery rates into account) to 4.7% by December 31, 2012. This is 1 to 3% percentages higher than CD rates!
Interested readers can find more information and comparison on various CD rates and fixed maturity corporate bond ETF yields here.
To summarize, one can squeeze more out of cash by looking beyond usual banking products such as CDs. In today's low rate and high risk environment, investors and savers do need that.
Disclosure: I have no positions in any stocks mentioned, and no plans to initiate any positions within the next 72 hours.