The market has essentially been in a slow-motion free fall, tumbling from a level of 1420 all the way to yesterday's low of 1304 and an overnight Globex low of 1293. "Sell in May and go away" has never been more true.
However, amid the carnage I am seeing a low-risk opportunity to take advantage of this poor sentiment.
The trade is simple: Get long with a stop at today's overnight low. If this is true selling exhaustion, we should melt up from these levels. A break of today's low would merit an exit from the trade, and anything absent relentless buying would put the selling exhaustion hypothesis under scrutiny.
In late April and early May, as the SPDR S&P 500 (NYSEARCA:SPY) was making an assault on earlier highs, I wrote two articles explaining why I felt it was not prudent to chase stocks at those levels due to some troubling developments. Overall, my stance was that the market remained range bound between 1310 and 1420, consolidating the gains from mid-December.
I wrote a follow up article last week detailing some positive developments that could have been the beginning of a move up, with the caveat that the trend was down, a lower low was still in the future, and a break and close below 1350 would lead to a visit of the lows of the range. Needless to say, those "green shoots" were trampled in the sell-off.
The genesis of the sell-off is Greece, Spain, and Europe. I think in this climate of fear and elevated volatility it's worth asking: How much is priced in?
Currently, a Greece exit from the euro seems almost a foregone conclusion and many are openly speculating about the entire dissolution of the currency union. I've posted a 10-year chart of the euro (NYSEARCA:FXE) below:
Click to enlarge all images.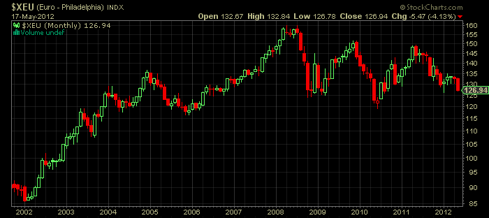 I think this is a useful reminder that amid these headlines and panic in the markets, the euro is ... doing OK. The "Greek drama" first erupted in 2010 with the euro hitting a low of 1.15 and we are above those levels, even as the situation seems more terminal today. I absorb all types of inputs, but most important is always how people are voting with their money.
Another important chart is the dollar. Given the troubles in the eurozone, it is quite logical that the dollar has moved higher with money flowing into safer assets. Recently, with the news flow only worsening we are seeing the dollar unable to move higher, unlike other risk-off assets such as bonds (NYSEARCA:TLT) and volatility (NYSEARCA:VXX).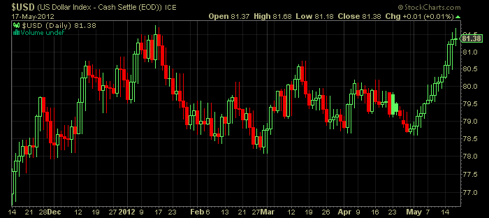 Another sign of selling exhaustion is the put/call ratio, which is showing a massive amount of people jumping into puts. Will those puts be profitable after the Dow (NYSEARCA:DIA) and Nasdaq (NASDAQ:QQQ) have been down 11 out of 12 days?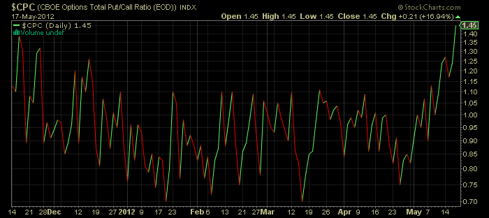 Conclusion
In general, I am much more optimistic at these levels than I was earlier this month. However, I very much doubt that this is the time to get long and "sit tight." Nevertheless, I think getting bearish at these levels is akin to those getting bullish in the beginning of the month.
Again, I want to note that if I am right about the selling exhaustion, then we should not violate today's lows and experience relentless buying. Anything less does not validate my thesis. We should also see wide participation in the market, with the iShares Russell 2000 Index (NYSEARCA:IWM) leading. The small caps have been lagging since February and are a clear warning sign to bulls.
Of course, there are no sure things in life or in the markets, so risk management is always supreme.
Disclosure: I have no positions in any stocks mentioned, and no plans to initiate any positions within the next 72 hours.