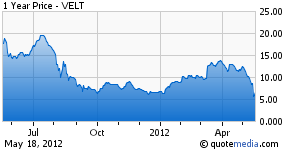 Dublin, Ireland-based Velti Plc (VELT) was one of the sharp plungers on Wednesday, but surprisingly on strong revenue growth, beating EBITDA estimates, guiding estimates higher, and in a company that's on the cutting edge of mobile advertising and marketing, with a client list that includes the world's leading blue chip companies.
The company reported its Q1 (March) after the market-close on Tuesday, and in announcing that it continued to demonstrate strong growth across products and geographies, the company announced the following metrics:
Quarter revenue at $51.8 million trouncing analyst estimates of $46.4 million, up 75% year-over-year, and an acceleration in growth given prior Q4 year-over-year growth of 52%;
Quarter margins up year-over-year from 64.0% to 67.4%;
Quarter loss of 2c beating analyst estimates of a 3c loss, and significant better year-over-year compared to last year's Q1 loss of 11c; and
Adjusted EBITDA of $4.6 million for the quarter, 260% growth year-over-year v/s $1.3 million in Q1 of 2011.
But wait, there is more. Looking forward, CEO Alex Moukas announced that 2012 will be a great year for them, guiding June quarter revenue and EBITDA sequentially higher to $55-$59 million (v/s $54.7 million estimate) and $4.5-$7.0 million respectively, and FY 2012 to $283-$296 million (v/s $289 million) in revenue and $81-$88 million and EBITDA. Backing out projected interest payments, taxes and depreciation & amortization from the EBITDA guidance, we arrive at an estimated 1c loss - 2c profit for June 2012 quarter (v/s 1c loss estimate), and for FY 2012 we arrive at $1.00-$1.10 in earnings (v/s 73c analyst estimate). That effectively translates into a forward P/E of 6 at current prices, for a company on the cutting edge of mobile advertising and marketing that has exponential revenue growth.
So, why the rapid descent in prices following the earnings report? The company's cash balance decreased to $41 million from $76 million in the prior quarter, and trade receivables increased from $71 million to $85 million sequentially. Also, its major market in Europe is in turmoil. While we agree that the reduction in cash levels and the increase in receivables is troubling, one has to remember that VELT is currently in the rapid growth phase that requires investment, and that account receivable levels can fluctuate in this phase. Furthermore, the company also announced that it will be cash flow positive by the fourth quarter this year. Also, the company is close to securing a $50 million credit facility to tide over into the second half, when it becomes cash flow positive. Furthermore, the company is well-diversified outside of Europe, especially into the major growth markets of India and China where most of the growth in mobile content is expected to occur going forward.
Now, let's examine what VELT does to fully appreciate their business potential and value in the new digital economy. VELT describes itself as, "shaping the future of mobile engagement", and in contrast to Google's (NASDAQ:GOOG) approach that essentially serves a wide variety of somewhat targeted ads with the hope that a small percentage of viewers will click on them, VELT delivers highly interactive marketing campaigns that aims at engaging the audience by making them part of the advertising experience. It is easy to see how this approach is more relevant in the age of social media, especially as corporations struggle to get a return on their advertising spend.
Velti's clients include the world's leading telecom carriers, advertising agencies, brands and media groups, and has offices worldwide in all of the major regions, including in San Francisco, New York, Los Angeles, Palo Alto, London, Dublin, Athens, Dusseldorf, Paris, Moscow, Sofia, Shanghai, Beijing and New Delhi. With an estimated 7.4 billion mobile phone subscriptions worldwide, and a projected worldwide mobile advertising revenue of $20.6 billion by 2015, a six-fold growth over just last year, we believe that VELT has years of growth ahead of it.
While there is some cause for concern over the lower cash levels, one needs to keep an eye on the growth and the potential going forward. We believe that Velti is an attractive play on the projected explosive growth in mobile media for the not-so-risk-averse investor. Also, for the short-term trader, it is conceivable that with the upcoming Facebook (NASDAQ:FB) IPO later today, this may get some lift along with the rest of the social media group.
Furthermore, for those needing confirmation, RBC Capital in a note yesterday, following the Q1 report, indicated that Velti financial performance remains strong, and that their long-term bullish thesis remains unchanged, and that they would continue to add shares at current levels. Also, Canaccord Genuity came out in support of the stock with a Buy and a $21 price target, after the report, and Needham had a price target of $20 and a buy recommendation on VELT prior to the report. Of the seven analysts that currently cover the company, five rate it at strong buy and two at buy, with a mean price target of above $20, well above current prices in the $6 range.
Its comparable peers include Millennial Media (NYSE:MM), a provider of mobile advertising solutions worldwide, that allow for the creating of advertising campaigns on a variety of platforms using banner ads, interactive rich media ads, and video ads; and Motricity Inc. (MOTR), that is mostly a provider of mobile data solutions, including mobile content and applications, but also provides a mobile campaign management solution as part of its mCore platform. MM trades at a $1 billion market valuation with $33 million in revenue and a 5c loss in the last March 2012 quarter, as compared to VELT's current valuation of $390 million, with $52 million and a 2c loss in the same quarter.
Credit: Fundamental data in this article and company descriptions are based on SEC filings, Zacks Investment Research, Yahoo, Thomson Reuters and Briefing.com. The information and data is believed to be accurate, but no guarantees or representations are made.
Disclosure: I am long VELT.
Disclaimer: Material presented here is for informational purposes only. Nothing in this article should be taken as a solicitation to purchase or sell securities. Before buying or selling any stock you should do your own research and reach your own conclusion. Further, these are our 'opinions' and we may be wrong. We may have positions in securities mentioned in this article. You should take this into consideration before acting on any advice given in this article. If this makes you uncomfortable, then do not listen to our thoughts and opinions. The contents of this article do not take into consideration your individual investment objectives so consult with your own financial adviser before making an investment decision. Investing includes certain risks including loss of principal.