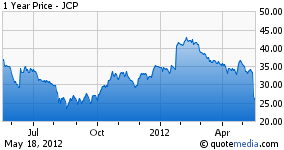 A few months ago I wrote about using emotional arbitrage to your advantage. The idea is that you are arbitraging your perception of the value of the company with the price that the market is offering it to you. Emotional arbitrage is one of three advantages that I attempt to identify before buying into a stock. The other two are information arbitrage, where you know something other market participants don't (perhaps because the company is small or unfollowed), and time arbitrage, where your investment horizon is longer than other investors.
The recent J.C. Penney (NYSE:JCP) quarterly earnings results are a great example of an opportunity to use time arbitrage to your advantage. It's a bit humorous to see financial journalists hyperventilating over the results and telling investors to sell and stay away from the stock. It has dropped more than 20% over the last few days, so it would be a bit late to do that even if you wanted to.
What investors should be doing is looking at buying instead of selling. If you cared to watch the company's investor presentation instead of just watching CNBC, you'd have a different opinion. Ron Johnson is sharp, and he's not doing it alone. He's brought over a team of very talented executives from Target (NYSE:TGT), Apple (NASDAQ:AAPL) and other places. They came to this drab retailer to do something special. Here's a quote from a Fortune magazine in March detailing how enthusiastic the new hires were to follow Johnson.
New president Michael Francis left his job as Target's head of marketing and creative visionary not long after Johnson told him he couldn't imagine doing the job without him. (Michael) Kramer, who had departed Apple to become CEO of Kellwood, jokes that his wife was upset - not because he took the job with Johnson, but because he didn't even try to play hard to get. Penney's new CIO, Kristen Blum, once worked at Apple, as did chief talent officer Dan Walker. "They want to come," says Kramer, "because of the transformation of something."
We're in the second inning of the transformation of J.C. Penney. Very few of management's reforms have been implemented, and the new brands won't even begin to be rolled out until late summer. However, Johnson has said that they are ahead of schedule. In fact, operational efficiencies are now expected to exceed $900 million in 2012 and be completed a year ahead of what they had originally predicted.
It really has been something to watch the investing community turn on Ron Johnson and his team so quickly. Just a few months ago they could do no wrong after their January presentation. Now, we're supposed to believe these pros are amateurs. Please.
The long term story has not changed one bit. If anything, their announcement of attracting some really great brands has improved their long term prospects. If you liked J.C. Penney in the mid $30s, like I did, you should be salivating at the prospect of being able to get it in the mid to high $20s.
For J.C. Penney, now is a time where you have an advantage over others by simply letting the fast money do its thing. Instead, forget about the next two to three months and focus on what results will be in the next two to three years.
Disclosure: I am long JCP.