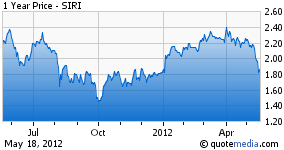 SiriusXM (NASDAQ:SIRI) CEO Karmazin continued his pre-announced conversion of his options and sale of stock on May 15th and 16th The total sale was 13.7 million shares at an average price of just over $1.98 per share. Based on the current price, it looks like he was fortunate in the timing of his scheduled sale. Should you be selling your shares?
Karmazin had announced his planned sale in a February press release as part of his "strategy for financial planning in connection with his philanthropic efforts." At the time shares of Sirius were trading at $2.15. With 60 million options at $0.43 having already vested as of the end of 2011 and another 60 million vesting in equal amounts on June 30th and December 31st of this year, it would seem to be a reasonable plan to begin diversifying his holdings.
A great, good or ho-hum quarter?
This week investors continued to watch the price of Sirius shares fall. Right now the market is heading for its worst week in six months. The market hates uncertainty and currently there is plenty of uncertainty. There is the fear of European bank failures if Greece defaults and/or is forced to abandon the Euro and return to the Drachma. There is fear of slowing growth in China. Many CEOs on Corporate conference calls have been guarded about their prospects for the remainder of the year, usually leaving guidance unchanged after exceeding expectations in the first quarter. Sirius management also delivered a mixed message in this environment.
On the Sirius conference call, Karmazin said:
... SiriusXM's first quarter results demonstrate the best of both worlds, strong subscriber growth and reduced churn. We grew net subscribers by more than 400,000 in the first quarter, an 8% increase from last year's first quarter. Importantly, self-pay net additions of 299,000 grew dramatically by 148% compared to the same quarter last year. Both of these figures represent the strongest first quarter net add performance we have achieved since the combination of Sirius and XM in 2008 ...

While we still have a lot of work to do implementing this price increase and retaining subscribers as we compete against free terrestrial and free online competitors, this strong first quarter performance has made us comfortable in raising our full year net addition guidance from 1.3 million to 1.5 million.
Yet, despite the increased subscriber guidance, everything else remained unchanged. On the same call CFO, David Frear said:
This was a great quarter for SiriusXM on all fronts. While the macroeconomic picture is a little mixed, auto sales and credit card defaults are improving, providing a good backdrop for SiriusXM.
Good news, isn't it? Then he concluded:
Our revenue, EBITDA and free cash flow guidance remain unchanged to $3.3 billion, $875 million and $700 million, respectively. Higher subscribers also mean higher subscriber acquisition cost in the near term. The revenue and adjusted EBITDA benefits of our increased subscriber guidance will clearly benefit 2013 operating results.
One can accept higher subscriber acquisition costs affecting EBITDA and free cash flow, but why wasn't the revenue guidance raised along with the increase in subscriber guidance?
Is it broken?
Those that use technical analysis often use terms like breakout or breaking down. Several recent articles on Seeking Alpha used charts and technical analysis to project lower prices, suggesting that the stock is breaking down. Is it just the shares of Sirius that are broken or is it the company that is broken?
I would suggest that the company is not broken and is performing much better than the stock. Subscribers, revenue, earnings and free cash flow are all rising. The company is paying down high interest debt. Apparently Liberty Media (NASDAQ:LMCA) also likes what it sees. Liberty, even before the end of last year, decided to increase its ownership by entering into a forward contract to purchase 302 million shares for $650 million (approximately $2.15 per share plus fees). And, after Sirius reported first quarter results, Liberty purchased an additional 60.35 million shares at approximately $2.13.
Investing or Trading?
Investors and traders have different time horizons. I have both invested in Sirius and traded the stock. Until a year ago, trading Sirius to take advantage of price movements around earnings calls was an easy, if somewhat risky, way to make money. The trades were made mostly on instinct - looking at the price movements (following real time streaming quotes) and volumes and taking a guess at an appropriate purchase point, then exiting when a decent profit had been realized or when fear of losing paper profits overcame greed (I invariably sold early, leaving some money on the table).
I have also held a significant long term investing position. The approach is more disciplined. Purchases were based on long term time horizons and on the expected future performance of the company. At times the price exceeded what I viewed as fair value, only to continue even higher. At other times the company has fallen below what I consider fair value, and continued lower. Each time, I looked at the company performance rather than the stock performance. Currently I see the company as still continuing to perform.
Summary
In a recent article reviewing first quarter results, as the shares were trading at $2.16, I wrote:
I look at the current and projected FCF per diluted share and see a share price I consider reasonable. It's a price that will continue to grow at a rate faster than the general market. It's also a price that is held in check by the uncertainty about what Liberty Media will do with its significant stake in the company.
That observation was made before the revelations by Liberty and based on a multiple of 2012 free cash flow. As the shares continue trading more than 15% below that level (as I write this), it looks like a bargain. Will it become a bigger bargain in the future? Quite possibly, based on its historical price movements. It's also quite possible that the stock will move quickly back to $2.16 or the recent high of $2.41 (where I would consider it above fair value).
As long as the company continues to deliver results in line with my expectations, I won't be following Karmazin and selling my shares.
Disclosure: I am long SIRI. I have $3 January 2013 covered calls against most of my Sirius position, as well as some $2 and $2.50 January 2013 covered calls (which I may close at any time). I may initiate (or close) a buy stock/sell option position in Sirius, discussed in another article, at any time. I hold no positions nor do I currently plan to open a position in Liberty Media.