PeakStocks.com buy recommendation AuthenTec (Nasdaq: AUTH) has had some recent events that I wanted to update you on that further solidify their position as the #1 company for finger print biometric sensors.
- Read my initial full company report on AuthenTec.
There are 5 key pieces of information that I wanted to update you on:
AuthenTec's presentations at various conferences.
AuthenTec recently shipped their 25 millionth finger print sensor and over 15 million sensors in the past 16 months, compared to the prior 10 million sensors shipped since the company

'

s founding in 1998.
AuthenTec's fingerprint sensor is being used in the World's first fingerprint-enabled personal navigation device.
The Master Lock smartTOUCH garage door opener (NYSE:GDO), has broken the "under $100.00" retail barrier, a first for any consumer access product featuring AuthenTec's sensor.

The Biometric Diary is the AuthenTec Big Idea Contest winner, which also included some great future ideas for AuthenTec's biometric sensors.
Listen To AuthenTec Investor Presentations
AuthenTec just finished up a gamut of presentations for the investment community in the last month or so.
I invite you to listen to any one of them to get a better understanding of the company and management team, and to learn in which direction the company is headed.
You can access all 3 presentations (UBS Global Technology and Services Conference, Lehman Brothers Global Technology Conference, Raymond James and Associates Annual IT Supply Chain Investor Conference), by clicking on the link below:
http://www.authentec.com/investors.html
25 Million and Growing Fast
On November 14th, AuthenTec shipped their 25 millionth sensor.
It's not so much the number that is significant, although 25 million fingerprint sensors is a lot of sensors, but moreso the speed with which their business is picking up steam.
AuthenTec shipped over 15 million sensors in the past 16 months, compared to the prior 10 million sensors shipped since the company's founding in 1998.
Can you say accelerated business trends!
There is a high chance that if you see or use a cell phone or laptop that has a fingerprint sensor in it, it was made by AuthenTec.
So the next question then becomes: If AuthenTec has shipped so many fingerprint sensors already, aren't they saturating the market?
Not even close! The overall PC and cell phone market is in the BILLIONS, and this doesn't even include peripherals, home security and other markets (as discussed below), that are just getting started.
This is the ground floor of a unique and rapidly growing business that will become commonplace within the next few years as more and more businesses, not to mention people that want to protect sensitive data, will start to rely on these fingerprint sensors to protect their valuable information from theft.
Protecting Your GPS Nav System
Thefts of Personal Navigation Devices [PND] are on the rise.
In fact, several European and U.S. cities are reporting that GPS devices are the most commonly stolen items in automobiles today.
These thefts, or attempted thefts, are occurring in broad daylight, and even when the owner of the PND hides it in the glove compartment or takes it with them!
Thieves are privy to the little suction cup stains in the window, or other evidence that there could be a nav device somewhere in the car.
They then sell these devices on Ebay, Craigslist, at flea markets, or through other avenues, as the resale value of these devices is high and demand is strong.
To help combat this, Medion has created the World's first PND that uses a fingerprint sensor made by AuthenTec, so that if the device is stolen, it won't work for anyone else but the original owner, thus rendering it useless and deterring thefts of the device!
Now I hear some of you asking silently in your head: "But how will a thief know that they can't resell this GPS enabled PND?"
Good question. The initial answer is they won't. But just like you see those little ADT stickers in people's homes letting thieves know before they even try to break in that the house is being monitored, the same will hold true for these devices if widely adopted.
Word will spread, thieves will leave them alone, and anyone that has one can simply leave it in plain site knowing that it is useless to anyone that doesn't have their exact fingerprint.
Protect Your Home
The wave of the future is upon us.
No longer will your kids have to take keys with them to school that can be lost, or fumble with passwords, or other inconveniences to get into their own house.
Now, a simple swipe of the finger will do just fine.
The Master Lock smartTouch garage door opener, developed by BioMETRX using AuthenTec's fingerprint sensor, is the world's first universal finger-activated garage door opener, replacing traditional keypads and keys with advanced finger -activated technology. Providing a more convenient alternative to carrying keys or remembering pin codes, a simple swipe of your finger will open/close your garage door.
This doesn't much help when you are in your car if someone steals your garage door opener, but its a great help for those who use their garage door as a front door, and don't want to have to fumble around for key fobs, enter pin codes or lose keys.
The smartTouch GDO, sold as the Master Lock smartTOUCH GDO, retails for $97.00 and can be purchased at The Home Depot stores nationwide.
When I visited the BioMETRX website, the GDO was selling for $129.95, which is strange considering they are selling it through The Home Depot for over $30 cheaper. I guess they didn't want to compete against what is probably their largest retail customer.
The Biometric Diary
On December 13th, AuthenTec announced the winners of its Big Ideas contest from among hundreds of ideas for applications that take advantage of AuthenTec's award-winning fingerprint sensors.
The 25 winning ideas were selected by a panel of technology enthusiasts, and are now posted on the contest Web site at www.25Mandcounting.com.
The Big Ideas Grand Prize, a new AuthenTec-enabled laptop PC, will be awarded to Edwin Martin of England for his suggestion that an AuthenTec sensor could be built into a lockable diary that can only be opened by its owner.
Now, normally this type of stuff wouldn't garner my attention since it's an obvious ploy by AuthenTec to mooch some free publicity, and have others give them ideas on how they can use their fingerprint technology, but what really got me thinking was that there ARE a lot of possibilities out there that we have yet to think of, or that have yet to become a reality.
Here's a partial list of some of the ideas that were submitted to AuthenTec for consideration:
Sensor-equipped game consoles with unique settings for each user
A fingerprint-enabled portable pill dispenser
Fingerprint-enabled children

'

s safety locks
Fingerprint-secured safe deposit boxes for banks
Pharmaceutical cabinets protected by fingerprint sensors in healthcare facilities
Power tools made more secure via fingerprint sensor
A fingerprint-secured mechanic

'

s tool box
Tamperproof thermostats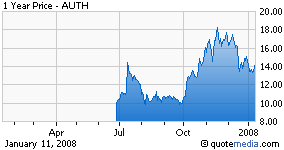 I don't know about you, but some of those sound pretty cool to me.
Just imagine what else people might come up with for uses, real legitimate uses, for fingerprint technology that is becoming cheaper and cheaper by the day via AuthenTec's manufacturing and scaling of their business.
Bottom Line
While I can't see into the future, I can tell you that technology will become a bigger and bigger part of our lives, whether we like it or not, and for better or for worse.
Why not embrace one aspect of that technology, security, that is tied directly to our every day lives and ride that wave as it meets mass production, mass acceptance and scalability that will enable it to be in most consumer products that require extra levels of security and sensitivity for protection, privacy or convenience.
AuthenTec continues to show that not only is their core business of PC's and cell phones flourishing and rapidly expanding, but other as-yet-unknown or untapped markets lie in wait to add incremental value to their business and continue to propel AuthenTec into a mainstream technology company.
My initial buy thesis is as strong as ever.
Disclosure: Author is long AUTH.