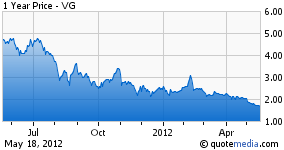 We first wrote about Vonage (NYSE:VG) back in 2009, when the stock was trading at $0.40 and fears of bankruptcy loomed. Since that time, Vonage management has done an incredible job of nursing the company back to financial health, despite a very competitive market and a weak overall economic environment.
As Vonage's financial situation has improved, shareholders have been rewarded with the stock price up significantly from panic lows set back in 2009. However, despite the rebound in VG's shares, the stock price has dropped significantly in the last year, and still languishes near multi-year lows . The share price also implies a valuation which suggests an imminent financial collapse. We think fears of Vonage's demise have been and remain greatly exaggerated.
Vonage Marketing: Completely Misguided
So what's wrong with Vonage and how can the company be fixed?
From our perspective, the major problem at Vonage is in the company's marketing department. While, Vonage's financial team is clearly quite talented, and the product development group continues to introduce valuable new features, the marketing department seems unable to translate these improvements into tangible customer additions and sales growth.
The issue with Vonage's marketing is that the company seems to be mired in tired and now irrelevant marketing messages and positioning statements. At the same time, Vonage's marketing staff seems blind to the company's own successful product innovations.
Vonage World + Vonage Extensions: The Future of Vonage
To better understand how Vonage's marketing has erred, it is important to understand the two major new features the company has introduced in the last few years: Vonage World and Vonage Extensions. A review of these new features is available on Vonage's website, but in sum, with the addition of Vonage World and Vonage Extensions, Vonage customers can now call nearly anywhere in the world for a flat monthly fee from their mobile. You simply sign up with Vonage, download the Extensions app, and start calling worldwide from your mobile. With Wordplan + Extensions there isn't even any need for the Vonage box, since one can call from one's mobile to any location worldwide by downloading the Extensions app. You do not need a Vonage box. As well, the rates on Vonage World + Extensions and the voice quality, rival, if not beat, Skype, Vonage's primary competitor. Not surprisingly, Vonage Extensions and Vonage World have been very popular with both new and current Vonage customers. We do not think it's an exaggeration to conclude that Vonage World + Vonage Extensions, has saved Vonage from near oblivion.
Vonage Marketing: Still Wrongly Focused on US Home Phone Service
Amazingly, despite the success of Vonage Extensions and Vonage World, Vonage's entire marketing message is still fixated on positioning the Vonage as a cheaper home phone replacement option for US-based calls. This pits Vonage against traditional landline phone companies, cable operators and mobile plans. In Vonage's SEC filings, the company continually cites competition from cable companies and migration to mobile, as an explanation for Vonage's continued customer churn and losses.
A Better Position for Vonage: A Mobile International Calling Plan
However, since Vonage's World + Extensions provides a different value than that offered by cable companies or mobile operators, there is really no reason to market Vonage as a replacement for any service. It's not Vonage vs. Mobile, or Vonage vs. Cable Companies. It's not about "Ditching the Big Bill", as each and every Vonage commercial reiterates. Vonage is simply about having the most convenient, affordable, and high quality way to call internationally from your mobile, or any other web-connected device. You can keep your mobile plan and still sign up with Vonage to call worldwide from your mobile for a low flat monthly fee. You can keep your home phone and also use Vonage World + Extensions to call internationally.
Basically, Vonage's message should be: Use Vonage to call internationally from your mobile phone for a flat monthly fee (and replace your home phone with a Vonage phone, if you want to). Compare this message to Vonage's current misguided marketing message, which is: Replace your home phone company with Vonage, because it's cheaper (and you can also call internationally from your mobile).
Obviously, Vonage's marketing department has completely missed the whole value of Vonage by placing the mobile international service as a secondary feature, while it's, in fact, the most important feature Vonage has to offer. Incidentally, on Vonage's own website in the how Vonage Works section, Vonage still says that there are three steps to sign up for Vonage: 1. Signup 2. Install the Vonage Box, and 3. Start calling. This is entirely the wrong approach and completely mistaken. You no longer even need a Vonage box to use Vonage, as mentioned above. The steps should be: 1. Sign up at Vonage. 2. Download the Extensions App. 3. Start calling internationally.
Much like Skype is not seen as a replacement to your home phone or mobile plan, Vonage too is no longer a replacement for your home phone or mobile plan. Vonage is an ancillary international calling plan for your mobile phone, which you can also use for your home phone service, if you are still interested in having a home phone.
Vonage Needs to Implement a Radical Marketing Shift or Sell the Company
So what can be done to fix Vonage?
It is clear that Vonage needs to implement a radical marketing shift to position the company as an international calling plan for mobile users, as opposed to a cheaper replacement for your home phone. If the company marketed itself in such a way, we are confident Vonage would slowly regain customer growth, given the vastness of the international calling market, which is still underserved, especially for mobile users.
In the absence of a marketing shift at Vonage, the company must be sold to a larger entity who will implement the necessary changes to properly position the company's services in the rapidly changing VOIP market.
Disclosure: I am long VG. We are shareholders of Vonage.