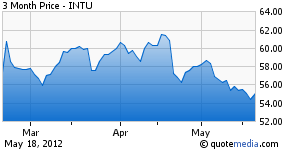 Intuit Inc. (NASDAQ:INTU) reported third quarter 2012 adjusted earnings of $2.43 per share, beating the Zacks Consensus Estimate of $2.39. Despite the earnings beat, shares fell 1.25% in the day's trade and 0.11% after hours. The share price indicates investor concern due to lowering of fiscal 2012 revenue and EPS guidance. (See earnings call transcript.)
Revenue
Intuit reported revenues of $1.95 billion in the third quarter, up 5.2% from $1.85 billion in the prior-year quarter. Reported revenue was in line with the lower end of management's guidance range of $1.95 billion to $1.99 billion and slightly below the Zacks Consensus Estimate of $1.96 billion.
Product revenues decreased 0.7% year over year to $598.0 million, while Services and Other revenues climbed 8.1% from the prior-year quarter to $1.35 billion.
Segment-wise, Small Business Group posted an 11.0% year-over-year growth based on the strength of the group's sub-segments. Financial Management Solutions' revenue increased 8.0%, driven by higher subscription for QuickBooks Online and QuickBooks Enterprise. Employee Management Solutions revenue was up 12.0%, led by growth in Intuit Online Payroll and Enhanced Payroll subscribers and improved adoption of direct deposit services. Online payroll subscribers grew 19.0%. Payment Solutions revenue increased 14.0%, with 13.0% growth in merchant customers.
Performance of Consumer Tax segment was weak with a 3.0% revenue growth. The lackluster growth was mainly due to lower tax filings with the IRS () and slow improvement in digital tax filing category, partially offset by better revenue per client.
The Financial Services revenue increased 2.0% driven by the growing popularity of Intuit's online and mobile solutions. Accounting Professionals segment revenue increased 5.0%. Other Businesses revenue grew 6.0% on the back of Intuit's global business.
Operating Results
Reported gross margin fell 130 basis points (bps) from the year-ago quarter to 89.6%. The margin contraction was mainly due to the Consumer Tax segment, partially offset by some cost minimization efforts.
Operating margin in the quarter fell 50 bps year over year to 56.9%. Though total operating expenses increased 2.7%, the percentage on total revenue contracted.
GAAP net income was $734.0 million or $2.42 per share, compared with $688.0 million or $2.20 per share delivered in the year-ago quarter. Excluding amortization expenses but including stock-based compensation expenses, the adjusted net income in the quarter was $735.4 million or $2.43 per share versus $699.1 million or $2.23 in the year-ago quarter.
Balance Sheet & Cash Flow
Intuit ended the quarter with cash, equivalents and investments of $1.52 billion, up from $959.0 million in the previous quarter. Accounts receivables were $294.0 million compared with $592.0 million in the previous quarter. As of April 30, 2011, long-term debt was $499.0 million, down from $999.0 million in the prior quarter.
Intuit had $1.28 billion of operating cash in the third quarter versus $260.0 million in the prior quarter. Capital expenditure was $33.0 million. During the quarter, Intuit repurchased shares worth $207.0 million and paid off $500.0 million of debt and $45.0 million in dividend.
Outlook
For the fourth quarter of fiscal 2012, the company expects revenues in the range of $647 million to $662.0 million. GAAP operating loss is expected in the range of $25.0 million to $15.0 million. Non-GAAP operating income is estimated in the $30.0 million to $40.0 million range. GAAP loss per share is projected in the range of 7 cents to 5 cents. The company also expects non-GAAP diluted EPS in the 5 cents to 7 cents range.
For fiscal 2012, the company expects revenues in the $4.205 billion to $4.220 billion range (previously $4.185 billion to $4.285 billion), representing growth of 9.0% to 10.0%. GAAP operating income is estimated between $1.180 billion and $1.190 billion (previously $1.190–$1.215 billion), reflecting growth of 17% to 18%. Non-GAAP operating income is projected at $1.400–$1.410 billion (previously $1.405–$1.430 billion), representing growth of 12.0% to 13.0%. GAAP diluted EPS is expected to grow in the range of 22.0–25.0% to $2.44–$2.49 (previously $2.43 to $2.50). Non-GAAP diluted EPS is expected between $2.92 and $2.97 (previously $2.90 to $2.97), indicating a growth of 16.0% to 18.0%.
Management also mentioned at the conference call that Intuit's fiscal 2012 earnings could slightly be diluted for the acquisition of Demandforce, earlier this month. But at the same time, it mentioned that the additional unit will add modestly to fiscal 2013 earnings.
Our Take
Intuit is a leading provider of business and financial management solutions to small and medium-sized businesses, consumers, accounting professionals and financial institutions. The company delivered modest third quarter results, beating the Zacks Consensus Estimates on the bottom line but missing the same on the top line. We are concerned about fiscal 2012 guidance lowering.
But we believe that there is ample scope for the increase of Intuit's SMB exposure. Intuit recorded 11.0% year-over-year revenue growth in its SMB group in its second quarter 2012 results, and expects to witness healthy year-over-year growth of 10.0–12.0% in fiscal 2012. The acquisition of Demandforce is a perfect fit for Intuit's SMB business segment. Upon closure, Demandforce will be included as a new sub-segment in Intuit's SMB Group.
However, we remain concerned due to the seasonality of Intuit's tax business and ongoing uncertainty in the economy at large. Moreover, we think that Intuit is going to face stiff competition from the leading payroll solution provider Paychex Inc. (NASDAQ:PAYX) in the SMB (small and medium business) sector as the latter introduced certain tools that aim at solving certain tax credit related problems for SMBs.
Currently, Intuit has a Zacks #4 Rank, which translates into a short-term Sell rating.