That was an interesting week. The market sold off on what might have been construed as a double shot of good news. Consider the following chart.
$SPX S&P 500 15 Minute Chart
click to enlarge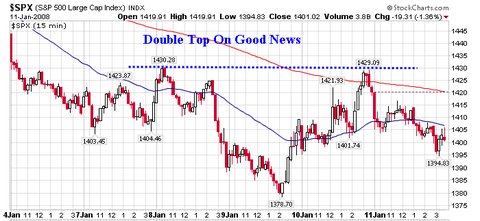 Double tops are taken out all the time. Perhaps this one is too. What is interesting however, is that this double top was formed when conditions were extremely oversold, in the face of what one might have thought was a double shot of good news.
Double Shot Of Good News
1) Bernanke all but admitted he was going to slash interest rates. The market popped on this news, then subsequently gave it all back. 2) Countrywide Financial (CFC) was on the verge of bankruptcy, but was bailed out by Bank of America (NYSE:BAC). The market popped on this news, then subsequently gave it back.
For more on the state of the economy and Bernanke's intentions, please Read Between Bernanke's Lines: Things Are Going To Get Worse. Perhaps the market is finally sensing that rate cuts are not going to be the cure that everyone has hyped for months on end.
My take on the Countrywide bailout can be found in Countrywide Buyout Deal Greased From The Start and Nationalization of the Banking System.
Late Friday Herb Greenberg offered The Real Story on Countrywide.
$SPX S&P 500 Weekly Chart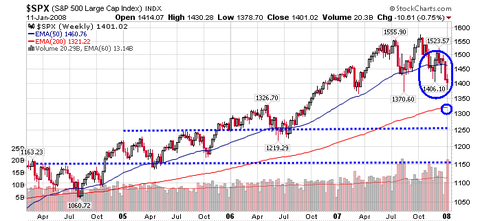 Market Reaction Is Decidedly Not Bullish
Given the decisive break of the 50 EMA, a test of the 200EMA at 1320 is a reasonable bet. However, there is not strong technical support there. 1250 or 1150 are stronger technical areas from which to bounce.
Kevin Depew, one of the best reads on Minyanville offered this opinion today.
Where We Stand

Below is where we stand with the point and figure bullish percent indicators for equities.

All bullish percents are now at, or below, the 30% risk level; reversals up from here are, historically, excellent, low-risk buying opportunities.

The High-Low indexes for both the Nasdaq and NYSE are now at very low-risk levels as well. We will first look for either reversals up, or even strong movements up, in the High-Low indexes to signal a positive divergence from the bullish percents. This will key a tradable entry point.

However, for those with a longer-term risk profile, it pays to wait for reversals up to confirm the lows, rather than anticipating them.

For now, risk remains very high for equities.

NYSE Bullish Percent: Os (Negative), 29.5%
S&P 500 Bullish Percent: Os (Negative), 30.1%
Nasdaq Composite Bullish Percent: Os (Negative) 22.5%
Nasdaq-100 Bullish Percent: Os (Negative), 25%
Russell 2000 Bullish Percent: Os (Negative), 25.8%
NYSE High-Low Index: Os (Negative), 14.8%
Nasdaq High-Low: Os (Negative), 11.3%
While these bullish percent and high-low percentages are the conditions from which rallies normally occur, these are also the conditions from which market crashes occur. No matter which way you are looking, "Risk Is High".