Bidz.com (NASDAQ:BIDZ) shares are higher Monday morning after American Technology Research analyst Tim Boyd started coverage of the online jewelery retailer with a Buy rating and a $19 price target.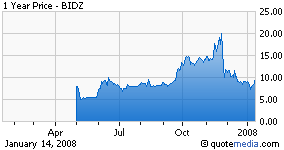 "BIDZ's real-time/interactive auction model is entertaining, user-friendly and has an obvious 'bargain hunter' appeal," he writes in a research note this morning. "BIDZ sources its inventory directly from manufacturers, thus eliminating many links in the highly fragmented jewelry supply chain." Boyd expects the company to meet or beat fourth quarter estimates and to reaffirm its previous 2008 guidance. He is looking for EPS of 42 cents for 2007, 49 cents for this year and 64 cents for 2009.
Boyd did not specifically address the substance of the November report from Citron Research that knocked the wind out of the stock late last year; but he did attack its findings and author. "On November 26th, 2007, BIDZ was victimized by a stock blog with a history of shorting stocks and then posting negative, innuendo-laden reports," Boyd wrote. "The BIDZ report was no different—i.e. nothing more than innuendo—but it spooked investors enough that the stock sold off 20% on the day the report was posted. By the end of the following trading day the stock had lost another 30%. BIDZ currently trades at $8.70 – 60% off its 52-week high of $22.50. In our view, this entire affair was a pre-meditated, carefully coordinated "drive-by shooting" by an unscrupulous investor and a group of collaborators who saw in BIDZ a stock that could be easily manipulated because of its small float (~10MM shares)."
BIDZ Monday is up 96 cents, or 11%, at $9.66.