Lowes Companies (NYSE:LOW) is nearing the of release last fiscal quarter's results before the opening bell on May 21, 2012. We can review how Lowes Companies has executed for investors recently.
Who They Are: Lowe's Companies, Inc., together with its subsidiaries, operates as a home improvement retailer. It offers a range of products for maintenance, repair, remodeling, and home decorating. The company was founded in 1946 and is based in Mooresville, North Carolina. Lowes Companies trades an average of 12.8 million shares per day and has a market cap of $34 Billion.
Book Value: $13.32
Float Short: 1.31%
What To Expect:
Analysts estimate an advancement of $0.13 in earnings per share compared to last quarter's results of $0.29. The number to beat is $0.42 per share based on the estimated mean earnings.
Recent Stock and Valuation Performance:
The current trailing twelve months P/E ratio is 17.1. The forward P/E ratio is 15.2.
The stock has fallen in price -9.51% in the last month, and 16.87% from one year ago.
The stock is performing better than the overall market with a relative gain. When comparing to the S&P 500, the year to date difference is 8.10%.
Shares have been under pressure since peaking at the start of May, but well above the 200 day moving average. At the same time mortgage rates hit another all time low this week (good for me because I want to refinance next month).
I look at the softness in price as an opportunity to "stick the big toe in" and by selling put options instead of buying the stock outright, an investor is able to mitigate risk.
Here are the last few quarters to get an idea how well they perform compared to estimates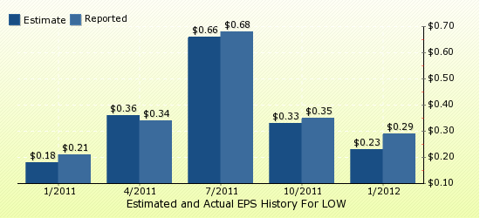 Click to enlarge
(Click to enlarge)
Reported earnings per share compared to the mean estimate. Differences are rounded.
Disclosure: I have no positions in any stocks mentioned, and no plans to initiate any positions within the next 72 hours.
Disclaimer: Robert Weinstein uses information believed to be correct, but is not guaranteed and is not independently checked for accuracy You may wish to use this article as a starting point of your own research with your financial planner. Seeking Alpha, Edgar Online, Zacks and Yahoo Finance provides most of the data. paid2trade.com uses the "confirmed" symbols from earnings.com that believed to be of the most interest.