Since I last wrote about BioSante Pharma (BPAX) on Seeking Alpha in late September and issued a research report, the Company has executed on its objectives to initiate a Phase 3 cardiovascular safety trial for LibiGel in the treatment of female sexual dysfunction [FSD] and renew a licensing deal for its calcium phosphate [CaP] nanotechnology (known as BioLook) as a facial filler for cosmetic medicine applications. Despite a stock price that has fallen to around $4 per share, insider executives and directors at the Company have been on a buying binge that includes the purchase of 151,000 shares in just the last month at prices ranging from $3.59 to $3.98 per share. No insider selling has taken place since last May when the stock was trading near 52-week highs. BioSante currently trades at a market cap of only $110 million, despite having a strong balance sheet with $30 million in cash and no debt along with a clear path to FDA approval for LibiGel, which requires just 12 months of safety data before a new drug application [NDA] will be considered.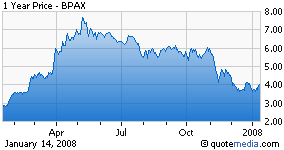 The Phase 3 trial for LibiGel launched last week is designed to demonstrate the safety of BioSante's low-dose testosterone in a gel formulation applied to the upper arm as compared to placebo in the treatment of FSD as part of an agreement with multiple divisions of the FDA on the study protocol required to file a NDA and become the first approved treatment for FSD in the United States. The study will involve 2,400 to 3,100 women exposed to either LibiGel or placebo for a period of 12 months in this cardiovascular event-driven safety trial, with an additional follow-up period of four years also required by the agency. Women who are at least 50 years old with risk factors will be tracked for the incidence of heart attack, stroke, cardiovascular death, and breast cancer. In addition to the recently initiated safety trial, BioSante will conduct two smaller Phase 3 efficacy trials evaluating 500 surgically menopausal women for a period of six months. The first efficacy trial is already underway and the Company plans to initiate the second study in early 2008. BioSante has previously reported Phase 2 results for LibiGel demonstrating its effectiveness and safety in the treatment of surgically menopausal women with FSD at blood testosterone levels within the normal range for pre-menopausal women.
Based on statistics from a study published in the Journal of the American Medical Association, 43% of American women (about 40 million) are estimated to experience some degree of impaired sexual function, with the majority of women reporting FSD being postmenopausal, through either the natural aging process or surgical means (hysterectomy). According to Procter & Gamble (NYSE:PG) market estimates, about 20% to 25% of the 25 million surgically menopausal women in the US are "distressed by a lack of sexual desire," with another 10% of the 30 million naturally post-menopausal women also experiencing this distress – equating to about 8 million women who could be classified as experiencing FSD. In 2004, the FDA rejected Procter's twice-weekly testosterone skin patch for FSD called Intrinsa, which is approved for use in Europe and was launched in 2006. The Company is not likely to pursue FDA approval again for Intrinsa, based on the lack of any additional safety studies underway or being planned for the product since it was rejected.
Another recent development that is favorable for BioSante is the FDA's recent action that included warning letters to compounding pharmacies in regards to misleading safety and effectiveness marketing claims for "bio-identical hormone replacement therapy" products, which are custom made from prescriptions and not approved by the agency. In December 2006, BioSante received full, non-conditional approval for its topical estrogen replacement therapy called Elestrin (estradiol gel), in both 12.5 micrograms per day and 37.5 micrograms per day. The smaller dose represents a 50% lower dose of estradiol than the lowest approved patch for the treatment of menopausal symptoms. Given its low-dose advantage, increased FDA scrutiny over compounding pharmacies, and the recent acquisition of marketing partner Bradley Pharma (BDY) by privately-held Nycomed (which is a larger company with more financial resources), Elestrin is poised to achieve higher sales and thus higher royalties for BioSante. In addition, LibiGel should experience less competition from compounding pharmacies once it achieves FDA approval due to stricter oversight by the agency and the ability for FDA-approved drugs to be covered by insurance. Near the end of last year, BioSante received the second of two scheduled $3.5 million milestone payments from Bradley Pharma as part of their licensing agreement for Elestrin, with up to $40 million remaining in potential sales-based milestones as Elestrin enters its first full year of marketing in 2008 after a mid-2007 market launch.
Based on BioSante's corporate presentations and expectations, LibiGel will be priced at a cost of $100 per month per patient or $1,200 annually. The Company believes LibiGel will be the first FDA-approved product for FSD, with an estimated 1.4 million off-label prescriptions written for testosterone to treat this condition in the US during 2006. The minimum estimated US market for LibiGel is $2 to $4 billion with blockbuster ($500 million to $1 billion dollar) sales potential for LibiGel. Billion dollar sales potential for LibiGel is easily achievable, based on a little more than 10% market share of the 8 million women identified by Procter & Gamble with FSD in their marketing study. Sales of over $1 billion would result for LibiGel from treating 850,000 women per year at an annual cost of $1,200 – and even more women are likely to seek treatment for a FDA-approved treatment with the possibility for insurance coverage and the assurance of consistent manufacturing facilities.
Within the next year, human clinical trials are expected to commence for cosmetic applications of BioSante's CaP technology, BioLook, to replicate pre-clinical results which demonstrate that it is an effective, long-lasting, and safe alternative to hyaluronic acid fillers on the market such as Restylane from Medicis Pharma (MRX). Also, results are expected from an ongoing Phase 2 trial of a triple-hormone contraceptive being developed in conjunction with Dutch specialty pharmaceutical company Pantarhei. Successful results in this study are likely to trigger partnership talks for further development and marketing of the contraceptive, with BioSante retaining a partial equity stake. Finally, an abbreviated NDA filing by partner Teva Pharma (NASDAQ:TEVA) is expected during the second half of this year for Bio-T-Gel (a topical gel formulation for male testosterone replacement therapy), with a market launch planned for 2009.
Over the next year and beyond, LibiGel is expected to be the key value-driver for BioSante, especially now that the Company has achieved clarity on the requirements for FDA approval and has already started the process with just one more Phase 3 efficacy trial due to commence early this year. Key Phase 3 safety data is expected in the latter half of 2009 with an anticipated NDA filing occurring in the first half of 2010 and market launch about one year later. However, shareholders are likely to realize the value of LibiGel much sooner in the form of a lucrative licensing deal or possibly even a buyout based on the product's tremendous sales potential as the first and only FDA-approved treatment for FSD in the US. Both the CEO (Stephen Simes) and the CFO (Phillip Donenberg) of the Company have a solid track record in creating and building value for shareholders with previous success at Unimed and Gynex before they were acquired by Solvay and Savient Pharma, respectively. Also, the recent insider buying suggests that executives and directors at BioSante feel the stock is currently undervalued and is an encouraging sign for investors who may have been waiting on the sidelines for an entry point.
Disclosure: None.