Verizon (NYSE:VZ) is in a real sweet spot and continues to sell more devices and add on new customers in addition to getting more revenue out of existing customers due to bandwidth pricing. A nice business model to have. The market has taken notice and the stock is up over 11% in the last month as this hourly trading chart provided by Barchart illustrates: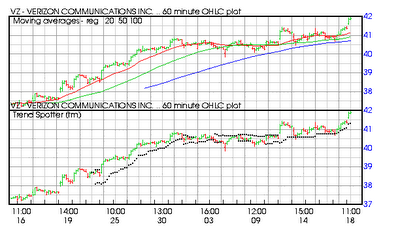 Over the past 50 trading sessions the market as measured by the Value Line Index was down 5% while the stock was up 8% over the same period: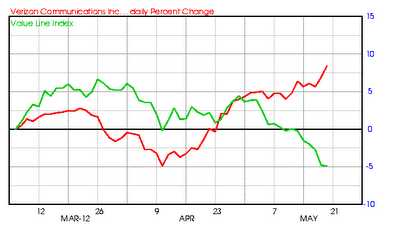 Verizon Communications Inc. provides communications, information and entertainment products and services to consumers, businesses and governmental agencies worldwide. It operates in two segments, Verizon Wireless and Wireline.
The Verizon Wireless segment offers data services and applications comprising Internet access through smart phones and basic phones; mobile broadband services; messaging services, which enable its customers to send and receive text, picture and video messages; customer-focused and business-focused offerings; location-based services; and global data services, as well as access to data applications and services of third parties. It also provides voice services; other connection-related services, such as data access and value added services to support telemetry-type applications; and M2M services that support devices used in healthcare, manufacturing, utilities, distribution and consumer products markets. In addition, this segment sells smart phones and basic phones, tablets and other Internet access devices.
The Wireline segment offers video services over its fiber-optic network; data services comprising high-speed Internet and FiOS broadband data products, as well as local exchange capacity, managed, mobility and security services; voice services, such as local exchange, regional, long distance, wire maintenance and voice messaging services, as well as VoIP, and landline and wireless services; and local dial tone and broadband services to local exchange carriers. This segment also provides networking products and solutions, such as private Internet protocol services, and ethernet access and ring services; and infrastructure and cloud services.
As of April 30, 2012, it served 93 million retail customers. The company was formerly known as Bell Atlantic Corporation and changed its name to Verizon Communications Inc. in June 2000. Verizon Communications Inc. was founded in 1983 and is based in New York, New York. (Yahoo Finance profile)
Factors to consider:
Barchart technical indicators:
100% Barchart technical buy signal
Trend Spotter buy signal
Above its 20, 50 and 100 day moving averages
10 new highs and up 11.18% in the last month
Relative Strength Index 72.37%
Barchart computes a technical support level at 40.38
Recently traded at 41.85 with a 50 day moving average of 39.32
Fundamental factors:
Widely followed on Wall Street where 29 brokerage firms have assigned 39 analysts to monitor the numbers
Analysts predict revenue will increase by 3.80% this year and another 3.30% next year
Earnings are estimated to increase by 16.30% this year, an additional 11.60% next year and continue at an annual increase of 10.98% over the next five years
These consensus numbers result in analyst issuing seven strong buy, eight buy, 21 hold, two2 under perform and a single sell recommendation
If the numbers are met investors are predicted to get a 13% - 15% annual total return over the next five years
Are these numbers stable? The stock has a very high price stability and earning predictability rating so I believe the numbers
The P/E ratio of 18.25 is slightly higher than the market P/E rate of 18.25 - remember the earnings forecast are double digit so the P/E seems deserved
The dividend rate is 4.89%, about 75% of expected earnings and twice the 2.30% dividend rate of the market
The company enjoys an A++ financial strength rating
Biggest pluses are sales of new devices up, opening of new customer accounts up, usage of bandwidth per customer up
Although Hudson Square gives a thumbs down, Barclays, and Oppenheimer give a thumbs up
General investor interest:
Individual investor interest is high with almost 4,900 readers of Motley Fool offering an opinion on the stock
Those voting gave the company a 94% confidence vote to beat the market
The more experienced and savvy All Stars voted 96% for the same result
Some popular columnists giving positive comments were Tobin Smith, Wayne Rogers and Gary B Smith
I always pay attention to what the market says and while Verizon is up 13% in the last year, China Mobile (NYSE:CHL) is up 18%, AT&T (NYSE:T) up 8% and Vodafone (NASDAQ:VOD) was down 6%: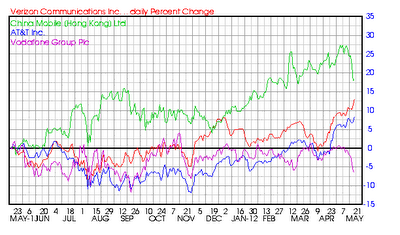 Summary: Verizon should continue to please both growth and income investors. With sales of devices, additional new customers and revenue per customer up this stock has everything, As always nothing is forever so monitor the 100 day moving averages and the lower of the 14 day turtle chart to gauge the market support: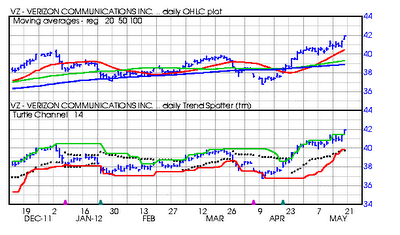 Disclosure: I have no positions in any stocks mentioned, and no plans to initiate any positions within the next 72 hours.