Facebook (NASDAQ:FB) is the world's largest social network. Amazon is the world's largest e-commerce distributor. These two technology giants do not seem like an obvious pair on the surface, but using some out-of-the-box critical thinking, some stealthy research, and a little strategic business model forecasting, I have come to the conclusion that Facebook is looking to disrupt the e-commerce space and that Amazon would be smart to partner with the company in its efforts.
What Each Brings to the Table
Facebook is closing in on one billion users worldwide. They currently use Facebook as an online destination, where they collectively spend nearly 10 billion minutes per day on the social networking site. Facebook knows that if it wants to build revenue, it is going to have to move beyond advertising. This will not happen overnight, and it will take a large amount of R&D spending to build out and expand upon the current business model. It also knows that the more it relies on advertising, the more it is directly competing with Google (NASDAQ:GOOG), which has thus far defended its crown as the most effective, cost-efficient way for businesses to advertise online. As Facebook develops its model, this may change in the future, but for now it's safe to say that Google will hold its position as #1 in the online advertisement industry.
In this hypothetical e-commerce venture, Facebook brings the following to the table:
A large audience: nearly two billion eyeballs are perusing the social network, often on a daily basis. If Facebook were a country it would be the 3rd-largest in the world behind China and India.
The audience spends a large amount of time on the website: By large amount of time, I mean more than any other website in the world, by a landslide
It has a diversified audience: Members of all ages, races and social class are represented in over 210 countries.
Now Amazon (NASDAQ:AMZN) is a pretty interesting company at this point in time. As polarizing a stock as Facebook has been, Amazon is not too far behind. The main argument in the bear camp is that it sells a ton of stuff, but doesn't make any money on it. From an objective standpoint, it is hard to argue against that point. In Q1 2012, the company amassed a whopping $13.18 billion in revenue, but had a razor-thin margin of only 1.5%. On the bull's side, it argues that e-commerce as an industry is still in it's infancy stage, and Amazon's relentless growth over the past couple of years has shown that there still may be a ways to go before it shows any sign of topping out. Just as I agreed with the bear's case against the margins, I will also have to agree with the bull's stance on growth. The chart below taken fro the U.S Department of Commerce shows that even in the United States, a country that is the worldwide leader in technology and innovation, e-commerce has yet to make a dent on the commerce industry as a whole. This is also a macro trend that benefits online payment operators such as Paypal (NASDAQ:EBAY), Visa (NYSE:V), and MasterCard (NYSE:MA):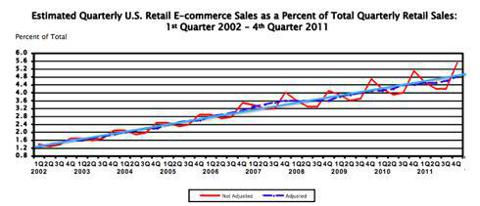 I am sure many readers will be surprised to learn that less than 5% of all retail sales are tied to e-commerce. I was certainly surprised when I learned that, and common sense would lead us to believe that those numbers are even lower in Europe and the emerging markets. This means that there is still a lot of growth ahead for the e-commerce industry, which also alludes to further growth for Amazon, which has asserted itself as the clear-cut industry leader.
Amazon brings:
A slew of partnerships and products: Over the past 10 years, Amazon has built relationships with tens of thousands of retailers and distributors selling millions of different products, oftentimes at the best prices to be found anywhere on the Internet
Infrastructure: In order to compete with Amazon in this day and age (many have tried and failed) you would need to invest hundreds of millions of dollars in infrastructure and equipment to even come close to providing a similar buying experience.
Large Number of Dedicated Customers: While not nearly as large as Facebook's customer list, Amazon boasts nearly 120 million customer accounts, with over 5 million of them part of the Amazon Prime program.
The Payoff of a Partnership: What Facebook Has Up Its Sleeve
I am envisioning a Facebook/Amazon partnership equating to a cutting edge product that I can only describe as an "online super mall," i.e., a place where you can go - either alone or with friends - to browse around, peruse deals, and if you see something you like, buy it. Am I getting too far ahead of myself? Maybe. Is there a possibility of a product like this coming to the market in the near future? Definitely. And right now, it looks like Facebook has the upper hand and will be developing a "virtual mall" with or without a partnership with Amazon. The first step has already been unveiled in a little-known roll-out of its first e-commerce project, a partnership with Elle, a leader in woman's fashion, with a Facebook Fan Page sporting over 600,000 "likes." The image below is what users will see when they first enter the "Elle Spring Trend Report":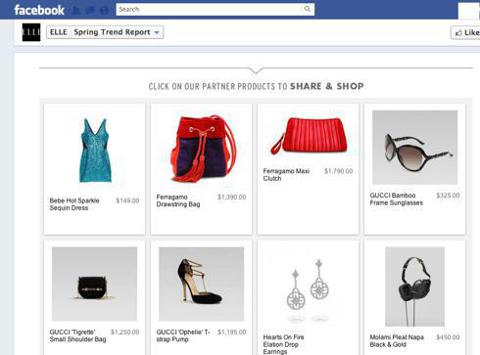 Here they can browse the store, designed with a very simple, yet elegant layout, that allows consumers to easily look at the latest fashion trends. This may strike some of the tech-savvy readers as having a strikingly similar layout to Pinterest, which is no surprise given its explosive growth and extreme popularity with female users. It makes sense for Facebook to adopt a similar layout in its e-commerce efforts, especially when it is initially centered on fashion, targeting a female demographic. When clicking on a product, you will be taken to the following page: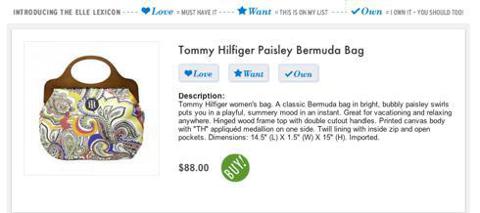 This is where Facebook can clearly leverage the social nature of the website. A user is presented with four very distinct actions to take once a desirable product is found. Users:
Can click the "Love" button, which shares the item with friends and indicates approval of said item
Can click "Want," which also shares the product with friends and indicates that they do not only love the item, but they have it on their list to buy
Can click "Own," which let's their friends know that they already own the item. In the fashion industry in particular, this could be seen as a "self-kudos," boosting the user's ego that they already have a product that's viewed as "in" right now.
Can outright "Buy" the product, which also shares with their friends their recent purchase.
What does this do? It makes commerce social. Zuckerburg had tried this before with a similar, but very different Facebook product called Beacon that automatically posted a user's buying activities to their Facebook account. This new product will be within the Facebook walls, and will require the user's permission to post. However, this opens up a whole new window of opportunity. This not only expands Facebook's business model (it can charge brands based on "shares" and also take a % of the buys) but it also builds upon the user experience. If Facebook is able to partner with Amazon, then every time I bought a book or purchased a CD, I would open up the discussion with my friends about my purchases. If others have read the book they can chime in, or if they love the band I am into, maybe we can go to a future concert together. I also think Amazon venders would love the marketing, and wouldn't mind sacrificing a couple pennies on every sale if it meant that thousands of potential new customers would see the products every time they made a sale. In this particular case of woman's fashion, I had little knowledge on the subject so I reached out to a friend of mine who is a well-known fashion blogger, and asked what she thought about the joint venture between Facebook and Elle. She believed that girls would love the format (which is unsurprising given the similarity to Pinterest I mentioned above) and would enjoy browsing and shopping for clothes in between their normal daily routines on Facebook. "As long as it was easy, girls would definitely use it," she said. Her only quarrel was that so few of her fashion friends had even heard of the venture, which makes sense given its super stealthy roll-out. This leads me to believe that Facebook may have a few tricks up its sleeve, and I wouldn't be surprised if it is lining up brands and vendors for a major roll-out later this year.
Conclusion
Looking forward, I will stick with my thesis that Facebook is looking to diversify its revenue stream, with a business model transformation that could eventually bring advertising down to 30%-50% of revenue (it is currently 85%). We already know that there is a big chunk of commerce yet to come online (~95%), which leaves a lot of money on the table for any product that can make online shopping more frictionless and enjoyable. Since Amazon does not rely on PPC or Display advertising as a meaningful source of revenue, I see very little downside to converting many of its users to shopping within the walls of Facebook. We already know that AMZN's margins are razor thin, so its not like it has much room to fall further before it starts giving away the products. The company also might be able to transfer any fees (paid to Facebook) from the partnership to the vendors rather than pay out of its own pocket.
Bottom line - I think that Amazon would benefit from a social presence, and a partnership between the two companies would create a very sticky product that would have great potential to change the way people browse and shop online. Currently, the majority of people go to Amazon when you know exactly what you need to buy, but not necessarily to browse. On the contrary, the majority of people go to Facebook to browse around, but they rarely have a specific set of tasks they have to accomplish on the site. A product using Amazon's database, vendor relationships, and infrastructure all within the walls of Facebook would be a perfect blend of their respective core competencies, and should be mutually beneficial to both companies. I also believe that if Amazon does not take my advice and partner with Facebook (as Zuck & Co. have the upper hand here, in my opinion) then it will leave itself exposed to a potential major disruption in the commerce market coming from Facebook in the near future. Facebook may not have the infrastructure to compete with Amazon on a direct level, but if it comes out with a commerce platform that allows brands and businesses to sell directly to Facebook users (where potential customers spend nearly 10 billion minutes a month), Facebook may have finally found the missing link to its business model. As the Elle example foretells, this scenario may not be as far off as many think.
Disclosure: I have no positions in any stocks mentioned, and no plans to initiate any positions within the next 72 hours.