Market Recap: The market started the day strong but fell later as Facebook's (NASDAQ:FB) IPO provided some early strength that was reversed later in the day. The Facebook IPO did not give much spark to the market, and without an upward catalyst, the market continued its red spell. Spain got a downgrade from Moody's, and Europe continued to weaken. Many are wondering when we are going to reverse, and we fell through key support at 1,300 on the S&P 500. Overall, it's a tough market right now and we continue to be negative.
Going into next week, we may flatten a bit as we get to a key S&P (NYSEARCA:SPY) support level at 1,270. That 200-day MA would be detrimental to break for the market. We are hopeful that the market will stop its bleeding, but at the same time, we have no catalyst right now for this market.

Two Trades
Two trades we like right now are short on Motorola Solutions (NYSE:MSI) as well as putting on a reverse iron condor on Direxion Daily Bull ETF (NYSEARCA:FAS). MSI is looking like a solid short after breaking some key MAs, its upward price channel it was in and a trendline support at 47.00. The company does not have high beta or a lot of solid fundamentals that would give us a quick reversal, and we believe this stock is headed for the 200-day MA at 46.00. A great way to play a volatile market right now is to buy reverse iron condors on ETFs like FAS with high beta. They are going to move a lot. We added a 74/73 bear put spread and 81/82 bull call spread for a nice reverse iron condor that will give us a solid 25% gain if FAS closes below 73 or above 82 by Jun16. With the large swings in FAS we have been seeing, we should see a nice reversal or continued downside.
Trade #1: Short MSI
Trade #2: FAS Reverse Iron Condor
(Click to enlarge)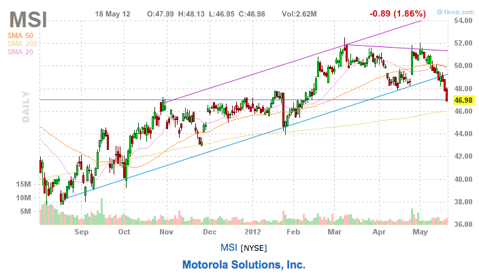 (Click to enlarge)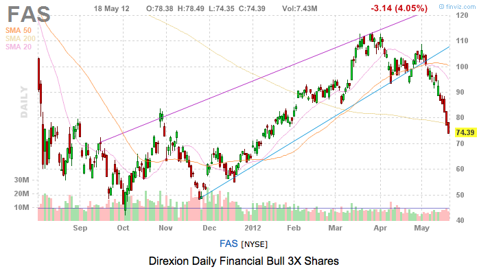 Commodity Talk
Based on our historical analysis, oil would be making its largest move in the past 20 years to the downside if it broke 92.50, and we believe that going long on oil at some point here this month around the 92 area is probably not a bad move. The best way we like to play that is with a United States Oil (NYSEARCA:USO) bull put spread or Ultrashort Proshares DJ-UBS Crude (NYSEARCA:SCO) bear call spread. We liked gold long around 1,525, but we are wary of expecting a major move past 1,600. Look for gold to stay pretty range bound for now.
Oxen Group Moves
We had a solid day as we took a lot of solid gains off the table. We took a 9% gain off the table in a TJX Companies (NYSE:TJX) bull put spread in our earnings portfolio. We saw our Visa (NYSE:V) bull put spread expire worthless for 17% gain. We got out of an ACE Ltd. (NYSE:ACE) bull put spread for 16% gain. We got out of our Abercrombie & Fitch (NYSE:ANF) reverse iron condor for a nice 15% gain. We got out of a Priceline.com (NASDAQ:PCLN) reverse iron condor for a 23% gain, and saw our Dollar General (NYSE:DG) bull put spread expire worthless for 17.5% gain. We saw an Under Armour (NYSE:UA) bear call spread hit our first target as well for a nice 15% gain. We did lose 22% on a Bed Bath and Beyond (NASDAQ:BBBY) bull put spread though.
We have the following positions. In our Short-Term Equity Portfolio we are long Whole Foods (NASDAQ:WFM). We are short Chipotle Mexican Grill (NYSE:CMG), Motorola and Sara Lee (SLE). In our Options Portfolio, we are long Disney (NYSE:DIS) and Panera Bread (NASDAQ:PNRA). We are short Under Armour, Apple (NASDAQ:AAPL) and Russell 2000 (NYSEARCA:IWM). We have a reverse iron condor on Ultra Proshares Financial. In our Earnings Alpha portfolio, we are long Western Digital (NYSE:WDC) and Dollar General.
Chart courtesy of finviz.com.
Disclosure: I am long WDC.