Now that the markets are increasingly discounting the "Nemesis" outlook, we have seen a relatively orderly pullback in valuations. Overbought conditions have rapidly shifted towards oversold conditions. The most recent talks of bank runs in Greece and Spain have only accelerated the process.
Whether or not the "Nemesis" theme is the ultimate outcome -- the key in my opinion is to stick with existing asset allocation plans and to be ready for opportunities given that the risk-to-reward for investments is improving. While timing the market is not the main goal -- investing into a negative trend environment or when volatility (as a proxy for uncertainty) is high is not recommended either. Here are ways to improve the odds of a reasonable entry point.
Utilize short-term trend indicators to complement intermediate trend signals
Use recent volatility measures to indicate whether trend indicators are reliable
To illustrate these concepts -- consider a portfolio's exposure to domestic large cap growth stocks. Most asset allocation plans would have some exposure to this asset class. There are several ways to accomplish this and I look at the Nasdaq 100 and the representative ETF, PowerShares QQQ Trust (NASDAQ:QQQ), as an option to fill this investment bucket.
While the Nasdaq 100 Trust crossed its 10-month moving average in January indicating an open to buy for an intermediate-trend following system, it quickly entered an overbought and/or overextended condition. This is represented by:
The relative strength index (RSI) reached 70 in early February, which is an overbought indication
The ETF crossed its 10-month moving average and quickly began trading above its long-term average when trading above the average. Over the past 150 months, 88 months have been above the 10-month moving average and those 88 months averaged 10.7% above the trend line. In February, March, and April, the QQQ closed at 12.2%, 15.9%, and 12.6% above its 10-month moving average, respectively.
These conditions warranted caution despite being in a positive trend. While the overbought conditions are easy to identify - they don't help signal an all clear for new allocations to the specified investment bucket. That is better left to a shorter term 5-10-20 trend indicator. This indicator turned negative on April 19th and remains negative as of yesterday's close. The indicator when negative identifies that the near-term trend is in the process of resetting.
So while the overbought conditions have been erased and the QQQ is trading at ~4% above its 10-month moving average - the short-term negative trend has been established and indicates additional caution until the 5-10-20 indicator turns positive and the resetting process has been completed.
The Volatility Caveat
The shorter the trend following system, the muddier the signal becomes with volatility. Large spikes in volatility can even whipsaw intermediate trends. As seen last fall, the volatility in the QQQ spiked to 38% in October before declining to under 10% in mid-march 2012. The 10-month moving average trend was whipsawed in October despite calling an exit for August and September. The 5-10-20 trend did not begin giving clear signals until the QQQ's volatility declined to under its long-term average of ~28%. Note that the 5-10-20 trend gave a positive signal a few weeks before the longer 10-month moving average.
With volatility currently reading at ~16% (fell below 10% in March), the 5-10-20 indicator should remain reliable and an upturn would indicate an opportunity to allocate to the QQQ. Most likely, if volatility does pick up, the QQQ will end below the 10-month moving average indicating that a trend following system would exit the position.
Conclusion
If the "Nemesis" theme takes hold then volatility should see a rapid spike and most trend systems will turn negative. As of today, current volatility numbers don't reflect significant uncertainty but are rising. If volatility remains below long-term averages, the long-term trends should remain reliable and the short-term indicators should be used with some confidence. As for new allocations to domestic large cap growth stocks and/or the QQQ, the opportunity is coming closer. Until then -- it remains a waiting game.
Figure 1: 5-10-20 Exponential Moving Averages for the QQQ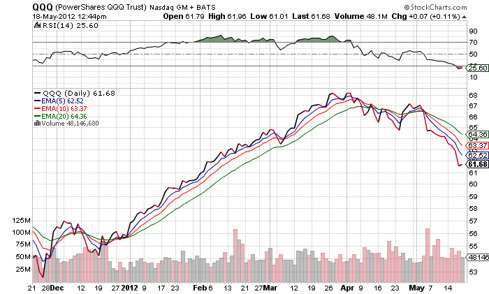 Figure 2: Long-term QQQ Monthly Chart with 10-MMA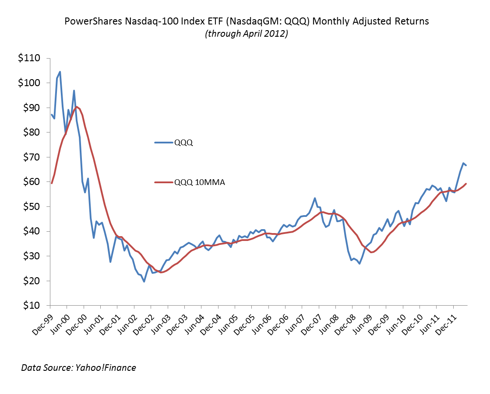 Figure 3: Long-term QQQ Daily Chart and Associated Volatility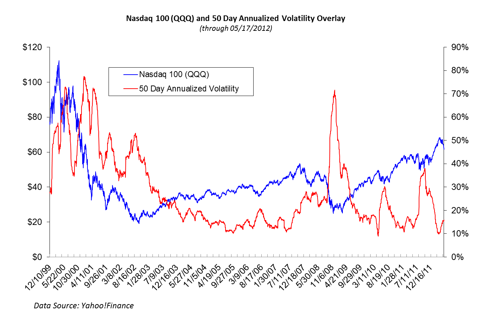 Disclosure: I am long QQQ.