I exited my position in FCStone (FCSX) in yesterday's trading as the valuation of the stock has reached my fair value price target (which is always a nice problem to have). My initial position in the stock was made on August 31, 2007, at a split adjusted price of $30.52 with subsequent purchases made at split adjusted prices of $31.09 in September and at $36 in November.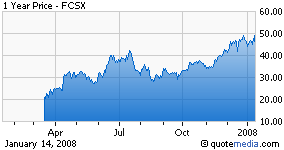 I initially had a fair value estimate of $44 on the stock which was raised on a couple of occasions to approximately $50 per share based on my projected earnings and cash flows for the firm.
I still like the company and think that commodity risk management is a growth sector, however, my valuation discipline has triggered the sale. I typically hold stocks for a period of one to two years, though in the small cap space on occasion I may hold stocks for shorter periods as I did with FCStone.
I will be redeploying cash later in the week. I am anticipating adding to some existing positions within the portfolio and may introduce another position into the portfolio later this week. As always, subscribers will be alerted to any changes in the portfolio as they occur.