SAP (NYSE:SAP) just announced its 4th quarter results and, like IBM (NYSE:IBM), the quarter was strong. SAP is saying that fourth quarter revenue is expected to be about 3.25 billion euros, up 10 percent from the previous quarter in 2006. If we exclude the fact that the euro is stronger than the dollar, SAP's revenue growth was about 14 percent. Revenue for 2007 was 10.26 billion euros, up 9 percent from 2006.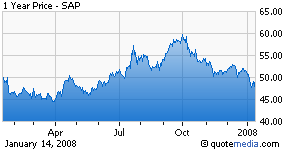 What makes it interesting is the fact that all these numbers are organic in the sense that SAP did not have big billion dollar acquisitions to boot. SAP recently announced that it will acquire Business Objects (BOBJ), but this acquisition is still to be completed, so we need to wait before seeing what impact Business Objects will make on SAP's topline. SAP also claimed enterprise software market share of 28.5 percent for the last four quarters, up from 24.5 percent from a year ago. That is some growth. Though these numbers are SAP's own claims, I would like to believe these are reasonable claims, as it is organically growing at 10% while the market certainly is not. Hence, it is crystal clear, to me at least, that SAP's market share is growing.
But I expect that the stock markets will not be too happy as operating margin for 2007 is expected down by about 1%, thanks to a stronger euro and its SAAS product investment. Revenues in America was up 7%, Europe and Middle East were up 13%, and Asia was up 19%. These are yet again testimony to a strong enterprise applications market and clear leadership of SAP in this segment. Again, clear acceleration from emerging markets. SAP is a truly global company and these numbers are great news for the emerging markets like India and China. Oracle (NASDAQ:ORCL) does not follow the Jan-Dec quarter calendar, so I am eagerly awaiting Oracle's results in a month or so, as good results from them will round off a great year for the enterprise applications market.
Disclosure: none