After a successful buyback of nearly C$1.5-billion worth of ACE Aviation Holdings Inc.'s [ACE.B/TSX] stock last week in a modified Dutch auction, on Monday, several analysts weighed in on what the next step will be in the eventual unwinding of Air Canada's (AIDIF.PK) parent company.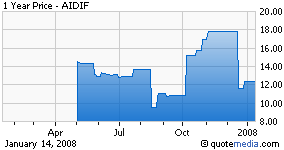 RBC Capital Markets analyst Nick Morton said he expects ACE to announce the sale of its remaining 20% interest in its regional carrier Jazz, and its frequent flyer program Aeroplan "shortly" after the companies report their earnings in the first week of February. ACE could raise C$1.1-billion in proceeds from the sale, he said.
In a note to clients, Mr. Morton said:
We would then expect ACE to do another buyback. In our view, the mostly likely scenario is that ACE would after another buyback do a share exchange with Air Canada which would see the two companies combine with the remaining company being essentially Air Canada.
Mr. Morton has a net asset value on ACE of C$30 a share and said he expects ACE's wind up to be completed by June.
Likewise, Canaccord Adams analyst Tom Varesh agrees that over the next five months ACE will divest itself of its remaining interest in Aeroplan and Jazz, but also "potentially" of its remaining interest in ACTS [23%], and Air Canada [75%].
While he said the timing of those divestitures is not known, he notes June 6 is the first "call" date for its tightly-held convertible notes, the majority of which are held by Cerberus Capital Management L.P.
We believe that all of the outstanding convertible notes will be "called" by ACE at that time and if it still holds stakes in Aeroplan, Jazz Air, Air Canada and ACTS, then divestitures of some or all of those holdings will take place shortly after this date, thereby marking the end of ACE Aviation Holdings.
Mr. Varesh has an estimated net asset value of C$31 a share on ACE.