Every story has a through-line, a thread of thought pulling it onward and-well, occasionally upward. But it will be hard for Dell's (NASDAQ:DELL) story to take a happy turn when the company reports earnings on Tuesday. There is, to be certain, a killer on the loose in the PC business in the form of tablets from Apple (NASDAQ:AAPL) and Amazon (NASDAQ:AMZN) -- and competitors like Hewlett-Packard (NYSE:HPQ) are also struggling mightily -- but a less reported indicator shows even more decidedly what Dell will be facing this week.
Out of nearly two dozen Wall Street analysts, only one rates Dell, despite all its troubles and large challenges, a "Sell." For all the rest, it's a "Buy" or "Hold."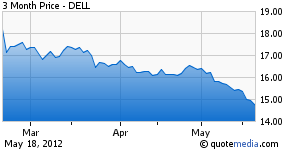 This information is readily available, but too infrequently mentioned (or factored into traders' decisions) in the prelude to a big earnings report. It should be front and center, right along with earnings expectations, which, in Dell's case, stand at 47 cents a share in net income, a decline of nearly 15% from last year's quarters, with revenues edging down nearly a percent to $14.92 billion.
Even if Dell beats (which is a leap of faith, if not off a bridge) where is the stock's power going to come from? Unless it crushes estimates -- highly unlikely considering the aforementioned difficulties in the PC business, the waning economy and the fact that Dell merely met modest expectations last quarter -- it will be hard for any stock movement to sustain itself. Stocks often move on earnings, then get second winds as analysts ratchet ratings up. That, though, presupposes that there are ratings to be ratcheted up.
When, as in the case of Dell, big upgrades are a near metaphysical impossibility -- well, that's a big factor.
Near unanimity from the Wall Street analyst community, at least when it's on the upside, gives stocks feet of clay in all but the most extraordinary circumstances.
So unless Dell reports the best quarter since sliced Apple, don't expect much stock action this week.
Disclosure: I have no positions in any stocks mentioned, and no plans to initiate any positions within the next 72 hours.