Industrias Bachoco (NYSE:IBA) is a moderate sized position within my portfolio, with the potential of additional flows over the next several weeks.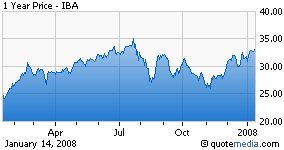 Industrias Bachoco began operations in 1952 and is the largest poultry producer in the country of Mexico. The company has recently also expanded its reach in the table eggs business by acquiring the table eggs business of one of its peers in Mexico. The company's revenues have grown from a level of 10 billion pesos in 2002 to 15 billion pesos at the end of 2006 and are likely to show additional significant growth when final figures are released for 2007 over the next several weeks.
Consumption of chicken in Mexico has grown by an estimated 500% over the past decade as the standard of living has increased (making chicken a more affordable item for many Mexicans) with no signs of a slowdown looking forward. The company is heavily owned by the founding family (over 80%), which aligns management goals with shareholder policies and in 2006 made several shareholder-friendly transactions, including a dividend increase (which stayed steady in '07) and the equalizing of shareholder votes for ADRs.
In terms of valuation, the stock is very inexpensive, trading at just 1x sales, 1.2x book, a trailing P/E of 15 (13 on an enterprise value basis) which likely fall to 11 after the next earnings report, EV/EBITDA of 6 and has over $300 million in cash (over $6 per share with little debt, note their competitors are almost all heavily indebted) and a 2% dividend yield.
The company will likely begin to expand its reach outside of Mexican borders over the next several years and should continue to expand share within the Mexican border.
Overall, this is a shareholder friendly and attractively priced company with strong growth prospects. The risks going forward are a loss of competitive edge and of course the possibility of Bird Flu spreading into the Mexican market.
Disclosure: Long IBA