On Saturday. two separate reports claimed that Hewlett Packard (NYSE:HPQ) will get rid of between 6% and 15% of its workforce through lay-offs, attrition, early retirement and other similar means. In the last few years, the company changed CEOs as often as other companies change front line managers. The company's transition has accelerated ever since Meg Whitman became its CEO.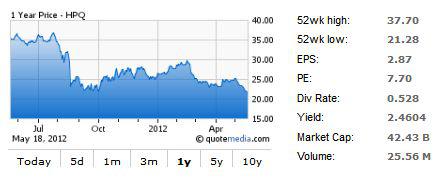 In the last year, the company's share price has been beaten so badly that there isn't much downside risk left with the company's stock price at the moment. Currently, HP trades at a trailing P/E ratio of 8 and forward P/E ratio of 6. Unless the company messes something up big time or goes to another CEO switch, I don't see the share price going much lower. The real question is not whether HP will go lower or not though, the real question is whether HP will go higher or not in the near future.
The biggest trouble in front of HP is that competition is very fierce. HP has many serious competitors including but not limited to tech giants such as IBM (NYSE:IBM), Oracle (NASDAQ:ORCL) and Cisco (NASDAQ:CSCO). The company's transition will not occur overnight, and the company has to keep gaining market share against the competitors while working on its transition. This almost sounds like ice hockey to me. Not only you are trying to keep standing on ice and keep the puck, you are also trying to fight off the defenders of the other team.
In the short-term, demand for HP products and services seem weak, except for the printer segment. This is mostly due to slowing economies in Asia and Europe. Another issue is the austerity measures being implemented all over the world as local and federal governments all over the world are some of HP's largest customers. This trend will hurt not only HP but also its competitors. In the medium to long-term, demand will be high, particularly in the developing markets. When HP is able to offer a larger portfolio of software and services, it will see even higher demand for its products. In the short-term (i.e., 1 to 3 years) the company will increase its R&D investments while cutting costs everywhere else in order to remain competitive.
The company's hardware business will have much lower margins than its software and service business. However, the printer business may be an exception to this rule. HP owes so much to its printer business as even in the hardest times, the printer business acted as HP's cash cow and provided the company with a safety net. The company's printer segment is well-established and it experiences strong customer loyalty both in the consumer and business side. Currently only 30% of HP's revenues come from services and software, and the company plans to increase this number to 60-70% in the long-term.
In March, HP decided to join its Imaging and Printing Group together with its Personal Systems Group. The first group was responsible for designing and producing printers, fax machines and copy machines whereas the second group was responsible for designing and producing computers and other products used by consumers. This plan goes in the opposite direction with a previous plan to get rid of or spin off the Personal Systems Group entirely as this group enjoys high revenue but low margins. The new group is now called Printing and Personal Systems Group. This joining of groups will benefit the company as it will be able to synchronize its buying of supplies, making it cheaper for the company to acquire many of these supplies it needs in order to build its products. HP's size allows it to get better deals than many companies when it comes to materials and supplies. It is very important for a company as large as HP to centralize its operations in order to minimize certain costs and maximize profits.
In the next year or so, the company will heavily invest in creating new products as well as increasing competence of its sales group. As the competition in the industry gets tougher, it becomes more important to have competent sales representatives in order to convince big clients to sign up for a company's products and services.
I expect the company to post important updates about how its reorganization is playing out during its earnings call on Wednesday. If reorganization isn't mentioned at all, that might be a bad sign, but I would be really surprised if that happened. I am also looking forward to some information regarding the new product and service offerings of the company. I really hope that the company learned its lesson about failed products, such as the tablet it produced briefly in part of 2011.
For long-term investors, HP can be a great bet. It is true that the company went through too much in the last couple years. However, its valuation is so attractive that it would take a disaster to hurt HP's share price from here. I don't expect HP to see a very high rate of growth, but it is a stable and relatively safe investment. Even if HP's income remains flat for the next 2-3 years, the company would be still a "buy" candidate with its low P/E ratio. The company's stock price got beat up over worries, many of which never materialized. At the end of the day, things are looking positive for HP investors unless they bought the stock when it was trading for over $40. Those investors will have to wait for a long time before they get their money back.
Disclosure: I am long HPQ.