Apple (NASDAQ:AAPL) has attained an incredible market capitalization of $156 billion and has passed up IBM's (NYSE:IBM) $142 billion market cap. Incredible as Apple's market value has more than doubled in these past 12 months. What's even more remarkable is Apple is still in the early stages of a major product cycle.
Between iPod and iPhone, the global market has barely been scratched. Apple has the quintessential game plan of a razor--razor blade model. On going revenues from the iTunes store supports the iPod owner, as well as iPhone. The iPhone also participates in a revenue sharing arrangement with the exclusive service provider, AT&T (NYSE:T).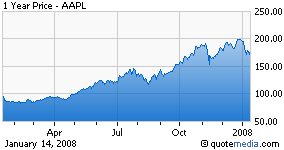 The other piece of momentum in the Apple story is the new Mac computer models supported by the new Leopard operating system. This is the 1st or 2nd inning of a 9 inning game---and this may be a doubleheader.
Monday January 22nd Apple releases the results of its December quarter. Already some analysts are raising the "strong possibility" as one put it, that Apple will probably exceed estimates. The new Mac sales apparently were off the charts so I believe Apple will exceed the $9.3 billion consensus revenue estimate. EPS estimates are for $1.56- 1.59 for the quarter. The whisper circuit is talking about $1.70+.
Whatever the case, numbers are going higher for Apple. I recommended Apple in my book Baby Boomer Investing...Where do we go from here? as one of the 41 stocks I highlight as potential blockbusters for the next 5 years. Apple has not failed to live up to expectations!
Cisco (NASDAQ:CSCO) is currently $3 billion larger in market cap---that should end by next week!
Disclosure: Author is long AAPL.