What does it mean when management attempts to support a falling stock price by pre-releasing strong sales figures… and the stock falls even more? This is exactly what happened to Blue Nile (NASDAQ:NILE) Monday as a press release was issued with the stated intent of assuaging investors fears of a weakening macro economy. The interesting thing is that management actually acknowledged the fact that they were trying to support the stock as up until this time, it was policy not to release sales figures until the full earnings report was ready. So back to the original question - why did the stock fall on the "reassuring" news and what does that point to as far as future stock prices go?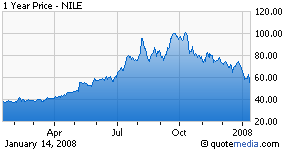 The first step to answering the question is to point out that stock prices are not based on reported earnings or sales figures as much as they are based on the investing publics perception of future reported earnings figures. So when data comes out such as a sales announcement and the stock price moves significantly, this shows that there was a disconnect between the perception of these sales figures and the final actual number. Furthermore, this new data point of fourth quarter sales begins to shape investors views of future sales, and the upcoming release of profitability for the fourth quarter.
Obviously the weakening consumer picture had not been lost on investors as evidenced by the declining stock price even prior to today's announcement. In my article from December 6th, I stated that valuation was very high for the projected growth level and that any disappointment would certainly cause the multiple to contract. But even with a weakening macro environment, investors were still expecting NILE to outperform competitors such as Tiffany (NYSE:TIF) which has taken a significant hit to market value. Today's announcement poured water on the theory that NILE is somewhat immune to economic slowdowns and perpetuated the distribution process as holders continue to liquidate their investments.
One might reasonably expect that since the news is now public and the stock has sold off in strong volume, that the worst is behind and now is the time to begin bargain hunting. However, the multiple is still high and that is compounded by the fact that the growth rate is now being called into question. Furthermore, while we have seen significant liquidation, we have yet to see the type of panic selling that usually accompanies the demise of a parabolic growth pattern. For an example of this panic selling see Crocs Inc. (NASDAQ:CROX) in November of 2007. Even after the panic selling is complete, it often takes months to repair the damage and for investors to begin to rebuild their confidence.
I believe that Monday's decline was another piece in an unfolding puzzle that is our recessionary environment. To buy at this point would be dangerous and put capital at unnecessary risk. I am short NILE and continue to hold my position although I have sold puts to hedge my risk of the stock quickly rebounding. It appears that any constructive pattern will take time to build so for now I would steer clear of this consumer discretionary name and exercise risk control in order to have capital to trade with when opportunities are more abundant.