Equity Media Holdings Corporation (EMDA) is an under the radar television broadcaster offering investors a distinct opportunity to profit from the national transition to digital only television signals taking effect next year. Broadcasters have been slowly migrating to digital over the course of the last decade under a Congressional mandate whereby the government will recapture and auction off the old analog spectrum, and the hard date for full transition is rapidly approaching.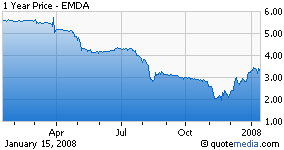 On February 17, 2009, all television broadcasters in the United States will cease operating in "dual mode" and must turn off their analog signals. What may be a shock to many outside of the industry is that these free over the air signals still supply news and entertainment to approximately 22 million homes that do not subscribe to cable or satellite television services.
The good news for broadcasters and consumers is that digital broadcasting offers additional benefits over analog broadcasts including improved viewing quality and greater programming choice. With a digital transmission, stations can choose to air their primary channel in varying formats of High Definition and secondary channels in lower quality Standard Definition. The level of quality determines how many different channels the broadcaster can divide their digital frequency into, a process commonly referred to in the industry as multicasting.
It has been estimated that digital multicasting could enable as many as 6 separate over the air digital channels for every one analog channel that previously existed, though most broadcasters only use one or two additional digital channels to maintain enough bandwidth to offer High Definition formats of their primary network affiliation, news and sports programming.
Equity Media is an interesting company to watch in this area for three reasons. First, with more than 121 television stations, licenses and permits, it is one of the largest owners of television spectrum in the country, and should benefit from the enhanced value of their signals in the digital age.
Second, they have improved operations and secured a healthy mix of network affiliations on their already built out stations, including a large number of fast growing Spanish language channels.
Third, last year the company launched a new over the air programming service, Retro Television Network or "RTN" that is being well received in the industry having signed up close to 50 affiliates nationwide with some of the largest broadcasting companies in the country.
While this company just came to the NASDAQ in May of 2007 through a merger with a blank check company, its management and predecessor companies have long been active in the broadcasting sector. Equity's management is well known in the industry for their skills in acquiring licenses and launching startup television stations- talents that should pay dividends in the digital realm.
A significant difference that digital broadcasting brings to the marketplace is that long held competitive advantages of heritage stations over new entrants in the local marketplace are now mitigated. Long established stations generally had lower dial positions, dominant signal strength, and more efficient signal patterns than newer UHF broadcasters. In the digital application process though, smart and aggressive broadcasters like Equity Media were in many cases able to maximize their signals and locate alternative tower locations that could vastly improve the reach of their over the air transmissions. This greater signal parity should increase the underlying "stick value" given to these full power digital broadcast licenses.
Also, Equity Media holds a number of additional licenses that are Low Power or "LPTV" that following the 2009 switch over could potentially be granted digital allocations and possibly power upgrades making them even more commercially viable and seemingly more valuable.
Now as a public company, Equity Media has shifted its primary focus from acquiring spectrum to operating and maximizing the value of these licenses. According to the company's website, Equity Media now has a presence in 41 television markets representing 32% of the U.S. population. It has English language stations with the following network affiliations: 1 ABC, 4 Fox, 5 MyNetwork TV (a network service from Fox), and 12 RTN.
The company has reported spending considerable efforts to upgrade the management and programming for these stations, and despite a weaker advertising forecast, should be able to continue growth by taking share from larger, more established stations in their local markets. Political spending in 2008 should help these stations in the short term as well as inventory tightens at larger stations and creates as spillover effect in the market.
Additionally, the company has a sizable group of Spanish language stations carrying a variety of affiliations serving the fastest growing sector of the television audience: 16 Univision, 3 Telefutura (a secondary network service from Univision), 20 LAT TV, and 3 MTV Tr3s. The company reports it is now the second largest Univision affiliate group behind Entravision Communications (NYSE:EVC), and has a deep relationship with the dominant Spanish broadcaster.
According to a recent company presentation, Univision owns approximately 8% of Equity Media Holdings, and also acts as its national sales representative for its Spanish language stations. Univision also granted Equity Media long term network affiliations of 15 years for their stations.
To complement the third party affiliations its stations have, the company launched its own broadcast network, Retro Television Network or RTN, that has secured the digital broadcast rights to a number of classic television shows giving the network a similar feel to Viacom's (NYSE:VIA) cable network, TV Land. Equity Media has secured additional carriage of this network beyond its own footprint by affiliating with other broadcasters such as Cox Television, Media General (NYSE:MEG), and Capitol Broadcasting. It now has close to 50 affiliates covering major markets such as San Francisco, Atlanta, Seattle, Pittsburgh, Orlando, and many more.
The company currently has a contract to buy 2 stations serving the New York City market that should also expand its national distribution and ratings as well. This new network could also see some benefit in future rounds of retransmission negotiations with cable operators as strong affiliate groups such as Cox use the leverage of their ABC, NBC and CBS affiliations, news and sports programs to gain local cable clearances for the fledgling RTN.
Beyond it filling an interesting niche in free over the air television, the RTN strategy is very smart for Equity Media in that it gives the company a proprietary source of programming for its stations as well as it allows them to participate in network sales opportunities. The company appears to be ahead of its own goals in obtaining affiliates as well, broadly appealing to other major broadcasters looking to diversify their network affiliations and maximize their digital capacity to the fullest.
Equity Media saw its stock price fall steadily last year from its high of $5 when it first came to the public markets in May 2007, but appears to have turned a corner based on the progressive moves higher the stock has been making since last November. This could be attributed to the success they are having with RTN, the digital transition date coming to a close in just over a year, and some positive developments related to its credit agreements. The company reported in its 10Q filed on November 14, 2007 that while it is currently out of compliance with its financial covenants, it had successfully obtained a waiver for this issue from its lenders on November 7, 2007.
However, it has also stated that it "will need to have access to substantial funds over the next twelve months in order to fund its operations". The company has stated that it intends to sell non-core assets in 2008 and refinance its debt. According to a company presentation, Equity Media received a valuation for its television stations and other broadcasting technologies of almost $400 million.
This valuation did not include any value ascribed to RTN or its vast spectrum holdings, indicating there could be substantial value in this company in excess of the current market capitalization of just over $130 million, even when additionally factoring in the approximately $100 million of total liabilities the company reported as of September 30, 2007.
Equity Media looks like a unique offering for investors if it can eliminate some of these broader issues with its lenders. It has a similar feel to Ion Communications (ION) which saw its shares up 161% in 2007 after it was announced Ion would be acquired by investment firm Citadel Limited Partnership. With Equity Media's close association with Univision, strong spectrum holdings, and new opportunities found in RTN, this is a company media investors should keep a close eye on over the next year.
Disclosure: None.