I have been a long time skeptic on Frontier Communications Corporation (NYSE:FTR). In the past year, FTR has done nothing to encourage shareholders and lots of things to excite the shorts ranging from lost subscribers to another dividend cut. Over this period, the stock has dropped from $7.49 at the end of July to $3.22 this past Friday. Factoring in three quarterly dividends means that shareholders have suffered through a 51% loss.
FTR is a rural telecommunications services provider to residential and business customers offering basic telephone service, internet and data services, and additional services. As of March 31, 2012, FTR served 5.2 million access lines (landline telephones), 1.78 million high speed internet subscribers and 562 thousand video customers. FTR also provides switched access service to other carriers.
I think FTR has a very bleak outlook under current management and based on its performance of the past year. FTR has been completely unable to stop the attrition of access line customers and has shown marginal growth in subscribers for its other services (internet, video).
Enterprise value matters
FTR has a declining base of customers that supports its valuation - both debt and equity. This is a very important concept to consider when evaluating a company. Enterprise value is the sum of the outstanding debt (market value) and equity market capitalization less net cash on the balance sheet. This is effectively the cost of purchasing all of the company's assets. Many utility type of companies have enterprise values the vastly exceed their equity market capitalization while many technology companies will have enterprise values that area actually less than their equity market capitalization. This happens when a company has no debt but significant balance sheet cash. Google, Inc. (NASDAQ:GOOG) and Apple, Inc. (NASDAQ:AAPL) would be two examples. The following chart shows FTR's enterprise value at July 22, 2011 and last Friday: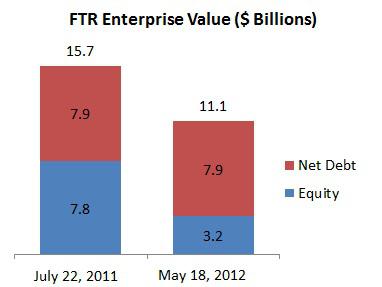 Source: Yahoo!Finance
The first thing to note is that while equity has suffered a dramatic decline, the overall value of the company has suffered a much smaller decline. Enterprise value should reflect the value of the underlying assets. This means that the more interesting analysis is look at the value attributed to each access line that FTR serves. The following chart shows this value: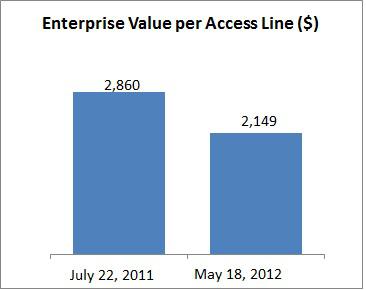 Source: Author Calculations, Yahoo!Finance, FTR SEC Filings
Comparable Valuations Suggest a Much Lower Equity Value
This decline in value per access line raises significant questions about FTR's future. The first question is whether or not this is even the correct figure. However, FTR's acquisition of Verizon Communication's (NYSE:VZ) assets is insightful. FTR's acquisition was for $8.6 billion for 4.8 million access lines and 1 million high speed internet customers. This transaction values each access line at $1,792. The following chart shows the impact of this type of access line valuation on FTR: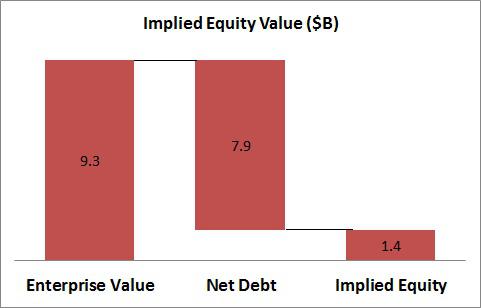 Source: Author Calculations: $9.3 billion = $1,792 x 5.165 million access lines.
This analysis would imply that FTR shares are worth just $1.40 a share based on 1.0 billion shares outstanding. However, I would argue that the value is probably not even the $1,792 that FTR paid given the overall performance of the assets. A zero equity value would be achieved at an access line valuation of $1,530 per access line.
This is a disconcerting result even if the analysis is still relatively high level. I'm sure that many readers will point out a few clear issues. The first is that it treats all access lines the same. The next issue would be treatment for all the other services. Despite declining revenue, revenue per access line continues to creep upward which is driven by the increasing percentage of business access lines. This also reflects increasing revenue per business customer. During the acquisition, FTR acquired 1 million internet customers or 1 internet customer for every 4.8 access lines, a ratio of 21%. Today, that ratio is much higher at 34%, suggesting that the value per access line, at least on this dimension, should be greater than the $1,792 figure.
Despite significant declines in share prices, I am still negative on FTR. Given, the relatively high debt burden as well as anticipated redemptions starting in 2013, FTR equity should continue to see downward pressure.
Disclosure: I have no positions in any stocks mentioned, and no plans to initiate any positions within the next 72 hours.
Disclaimer: This article is for informational and educational purposes only and shall not be construed to constitute investment advice. Nothing contained herein shall constitute a solicitation, recommendation or endorsement to buy or sell any security.