Actionable Items:
CEF Weekly Review: On average, the 13 closed-end fund (CEF) types registered a share price decrease of 3.4% for the week ending 5/18/12. The high-low spread (average percentage price change difference between the highest and lowest fund types) registered this week was +6.3% versus +3.0% the previous week.
The PowerShares CEF Income Composite (NYSEARCA:PCEF), an ETF that invests in taxable income CEFs, was down 4.9% for the week. PCEF is now up only 0.4% YTD on price appreciation. Currently, PCEF's trailing twelve months' yield is 8.2%. The S&P 500 plunged 4.3% this week on top of a decline of 1.1% the previous week. The S&P 500 continues to lose altitude and has drifted lower retaining a gain of only 3.0% YTD.
CEF Weekly Fund Type Performance: The broad S&P 500 did a "header" this week. Its daily decline was sequential and ended the week down 4.3%. Not even the most over-hyped IPO could shake investors from their grumpy mood. All 13 sectors experienced average share price declines along with each of the sectors declining greater than their respective NAVs.
As would be expected, fixed-income was investors' choice for the week with both NatlMuniBndFnds and SingleStMuniFnds declining the least, -0.5% and -0.7%, respectively. Equity-oriented CEFs experienced significant price declines and on average lost 5.7%.
click to enlarge image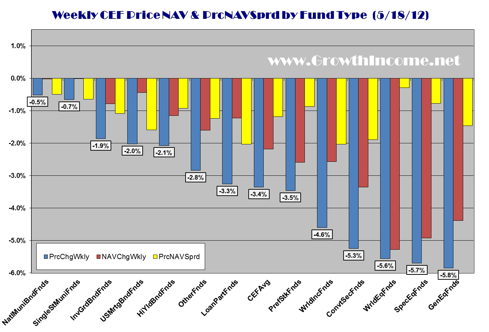 In an article we published March 23rd, entitled, "Investors Ignore Distribution Declines in Fixed-Income CEFs", we noted that on a YOY basis, from February of this year, 59 of the 143 SingleStMuniFnds experiencing a change in their distribution rate also experienced a decline.
A UBS strategist has chimed in with a similar observation and cautions that muni CEFs could experience more distribution declines-albeit, modest, due to: 1) under-earning their distributions, 2) higher debt costs, and 3) lower returns on reinvestment as muni bond yields hover around a 40-year record low.
Weekly CEF Winners and Losers: One of the CEFs with the greatest positive PrcNAVSprd* for the week was First Trust Specialty Finance Fund. FGB's share price declined 0.3% while its NAV per share declined 5.5% generating a positive PrcNAVSprd of 5.2%.
FGB invests in specialty-finance companies that include BDC's and some REITs that provide non-bank financing-particularly of mortgage products. FGB pays a quarterly distribution with an annualized yield of 8.9%. The stock goes ex-dividend on May 22nd, which is next Tuesday. Investors may be buying into the quarterly distribution-although, daily volume for both Thursday and Friday was below average.
One of the CEF(s) with the greatest negative PrcNAVSprd for the week was Cornerstone Progressive Return Fund . CFP's share price declined 21.6% while its NAV decreased 4.3% generating a negative PrcNAVSprd of 17.3%.
CFP is one of the three funds advised by Cornerstone Advisors that has structured its CEFs in a fashion to distribute large monthly distributions comprising a large component of return-of-capital ("ROC"). The extremely high yields cause uninformed investors to bid-up the share price thereby generating a premium valuation relative to its NAV. This premium has created the ability of these CEFs to sustain such extended distributions by periodically "reloading" its capital base by issuing rights to existing shareholders.
"Right On": CFP on Friday went "ex-rights for a non-transferable 1-for-3 rights offering after going ex-dividend on May 13th on a monthly distribution of $0.914 per share telegraphed for the next three months. When this monthly distribution is annualized, it generates an eye-popping 20.2% yield based on Friday's close. (We are pleased that Yahoo Finance has taken our advice and it no longer publishes nominal yields for the Cornerstone funds. We hope to convince Bloomberg and WSJ to report CEF distributions in a similar fashion.)
Apples to Oranges: While CEF's share price reflects the dilution of the rights offering, the NAV may not until the new shares are issued. As a result, investors are not able to compare share price and NAV on an "apples-to-apples" basis relying on current published numbers. Other Cornerstone Advisor managed CEFs (Cornerstone Strategic Value Fund (NYSEMKT:CLM) and Cornerstone Total Return (NYSEMKT:CRF)) also experienced sharp share price declines this week-although there has been no public announcement of rights offerings in either case.
"Heads Up": We have written extensively (see previously SeekingAlpha articles) on the lack of fundamentals and the "gaming" of investors through unsustainable organic distribution regarding the Cornerstone advised CEFs. We will not belabor the point. We refer you to a Barron's article earlier in the year on this point regarding the Cornerstone CEFs for those seeking corroboration.
Significant Events: Global High Income Fund (NYSE:GHI) made a change to its managed distribution policy. The reduction of the annualized rate from 8% to 7% will go into effect beginning with June's monthly distribution. The board feels that the revised rate is appropriate and in-line with the recommendations of its investment advisor UBS Global Asset Management Inc. The board cited declining global government bond yields and spreads on many credit sectors as reasons for the change in policy.
CEF Focus Stock(s) for the Week: The focus CEF for the week is Cohen & Steers Total Return Realty Fund . Given the global turmoil and the prospects of more quantitative easing globally, real assets are a means of retaining value. RFI currently trades at a 4.4% discount and generates an annualized quarterly distribution yield of 7.1%. Its net total assets are $123 million and it employs no leverage. Its expense ratio is a very reasonable 0.91%.
While a portion of its distribution is deemed a return of capital, it is likely a result of the nature of REIT distributions which are based on cash flow as opposed to earnings. The difference between cash flow and earnings is typically depreciation which is considered a non-cash charge in the real estate investment business.
RFI has experienced some heavy volume in the past week as if some institution may be selling its position. The REIT ETF, Vanguard REIT Index ETF (NYSEARCA:VNQ) also experienced a significant decline this week, off 6.8%. Additionally, YTD REITs, as measured by VNQ, are up 13.8% and may be experiencing some profit taking.
The CEF focus stock section of this article is to "highlight" stocks of interest that may deserve further study.
Last Week's Focus Stock(s): Solar Senior Capital Ltd. was last week's focus stock. (SUNS) is a BDC (Business Development Company) and it primarily invests in senior secured loans, including first liens, unitranche, and second lien instruments. It trades at an annualized monthly distribution yield of 7.0% and a price-to-book of 0.9. "SUNS" has assets of $187 million with minimal debt.
What drew our attention to SUNS is the insider buying of its CEO, Michael S. Gross. Mr. Gross (the "other" Mr. Gross) purchased another 2,000 shares this week at $16.47 per share. This brings his direct holdings to 92,540 shares. However, since March of last year, Mr. Gross has purchased 592,640 shares at a cost of $11.5 million. Five hundred thousand (500,000) shares were purchased in another entity. That entity deemed beneficially owned by Mr. Gross.
SUNS' share price declined 3.0% this week; 2.4% when including the capture of its monthly distribution of $0.10 per shares (ex-dividend). That's no consolation even when the S&P plunged 4.3%. No one gets paid for relative performance.
Disclosure: I am long PCEF, BIF. I own a diversified portfolio of CEFs and ETFs and am long stocks in the CEFBig10™ and CEFMuni10™.) The first is a balanced equity-income portfolio (CEFBig10™) and the second a tax-exempt income portfolio (CEFMuni10™).